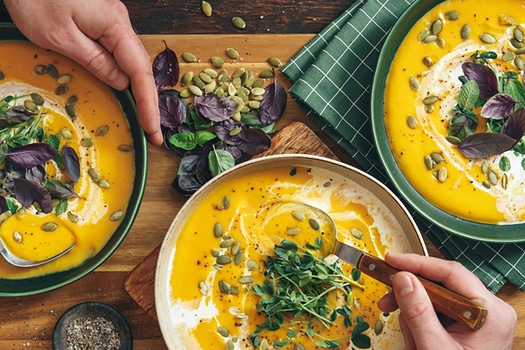 Freezer-friendly soups to load up on goodness
Love a good soup? So do we! 
They are the perfect budget meal to cram with nourishing veggies and warm you through as the winter chill sets in.  
Soup is one of the best meals to make in bulk, because it freezes so well. Consider it the easiest meal prep.
When freezing soups a few top tips:
Wait until it cools before popping it in the freezer,
Portion it out to single serves so it's ready to go for a dinner or lunch without any waste.
Try freezing in zip-lock bags to save on freezer space. Also great for taking away camping or caravanning when space is a premium. You can even wash and reuse them!
Creamy soups can go grainy when reheated, so freeze before you add in any milk, or your favourite non-dairy alternative. Instead add it when reheating just before eating.
Label! Just so you know what soup it is and when you made it. Soups will generally freeze well for two to three months.
To start the colder months off right, here are four of our dietitians' favourite hearty soups that will help you load up on goodness this winter.
Thick, smooth and creamy, this delicious soup is packed full of veggies and spices. So, what makes the combination of these kitchen staples so good?
According to Accredited Practising Dietitian Trish Guy
cauliflower
 is the perfect example of why you shouldn't overlook white food when it comes to being healthy.
"It belongs to the cruciferous vegetable family, same as broccoli and Brussels sprouts. These veggies have been shown to reduce
cancer risk
, including breast cancer. Cauliflower is also loaded with vitamins including vitamin C and folate – important for a healthy
immune system
" said Trish.
Need another reason to try this soup? Carrots provide
carotenoids
, in particular beta-carotene. It's what makes them orange and is also a powerful antioxidant that has been linked to reducing the risk of
some cancers
. And turmeric is a bright yellow spice that can help reduce
inflammation
.
Subscribe to 
Wholicious Living
 to stay up-to-date with the latest health and nutrition advice.
Dairy and lactose free, this soup is a nourishing winter warmer that's ready in just 30 minutes.
Accredited Practising Dietitian Angela Saunders is a big fan of adding spinach to soups for extra goodness but her tip with this one is the tasty chunks of tofu.
"As well as absorbing all the delicious broth,
tofu
 is a super nutritious soy food, and is a great source of protein.
Soy foods
 can also help lower blood pressure, manage cholesterol and lower risk of
heart disease
," said Angela.
"There are also a growing number of studies linking soy based foods, like tofu, with increased protection from
breast cancer
 and even better survival rates."
Bursting with colour, flavour and texture, this couscous and butterbean soup is a deliciously good vegetarian soup that looks fancy but is a simple 30-minute meal.
Accredited Practising Dietitian Charlotte Moor says her number one tip for making soups healthier is to add beans.
"I love this soup because it has butterbeans, but any type of legume is great. Lentils or chickpeas would work well. Both tinned or dry legumes make great pantry staples for bulking up soups and have strong nutrition credentials, loads of fibre and help maintain
gut health
," said Charlotte.
This classic winter soup is full of flavour and a hearty meal that will keep the whole family happy.
Accredited Practising Dietitian Eliza Baird says adding wholegrains, like barley, can make veggie soups even healthier. 
"
Wholegrains
 provide a range of nutrients, including fibre, phytonutrients and B vitamins. Eating 3 serves of wholegrains a day could 
lower your risk
 of developing type 2 diabetes by up to 32%," said Eliza.
"If you need a gluten-free option swap the barley for a gluten-free wholegrain like amaranth, quinoa, buckwheat, millet, teff, brown rice or wild rice.
"The other hidden hero in this soup is tinned tomatoes. They contain vitamin C, vitamin A, beta-carotene and a powerful compound called lycopene – it gives them their red colour and has been linked with reducing cancer risk, particularly
prostate cancer
. You absorb more of the lycopene and beta-carotene from tomatoes when they have been cooked, made into a sauce or tinned."
For more delicious budget soups to keep you well fed, nourished and warm, check out our new
recipe collection
.

The latest nutrition advice, plus health and wellness tips delivered to your inbox monthly