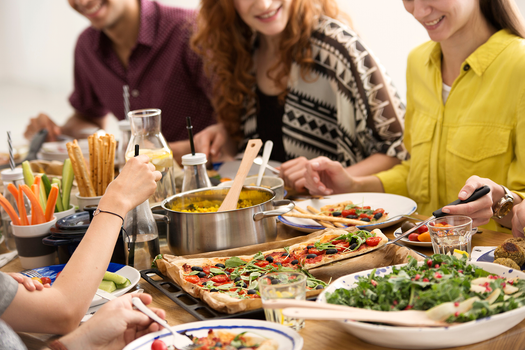 Expert tips and recipes for summer entertaining
More than ever, we're looking forward to celebrating this festive season with family and friends and getting everyone back around the table.

To help make this year's festive feasting and summer entertaining extra special, we've spoken to food lover, cookbook author, nutritionist and founder of From My Little Kitchen Melanie Lionello.

"Christmas has been my favourite time of year my whole life. It's a time when you can all stop and come together and spend more time in the kitchen making something special, traditional or new recipes you normally wouldn't do," said Melanie.

"Everyone is together to eat food, chat, play games and for once, they have nowhere to be – we don't get the opportunity to do that really, except for at Christmas. For me, as long as everyone's there, and has food on their plates, that's all that matters." 

Melanie, the author of Frugal Mediterranean Cooking, has shared three of her favourite vegetarian dishes for Christmas and summer entertaining – her wow-factor summer salad, her number one go-to for when she needs to 'bring a plate', as well as her much-loved Christmas nut loaf, the perfect vegetarian centerpiece for a Christmas lunch.

"These are my favourites because they don't really taste like typical 'salads'  – they're a bit more special and have a lot of body to them," said Melanie. "I never feel like these are the side dish to the main event. They're delicious and stunning stand-alone dishes, and are such showstoppers, that people will go for them first.

"And, well the Christmas nut loaf seriously is the best nut roast to serve at Christmas, or any time of year really! It's packed with veg, which we can all use more of, has incredible texture and flavour and just is so, so satisfying."

Melanie also has shared some of her expert tips to reduce the stress and save time in the kitchen, so you can spend more time chatting and enjoying the day.

"It's colourful, flavourful, and in my mind, it tastes like summer on a plate," said Melanie.

"One of my favourite flavour combinations is fruit and cheese – in both savoury and sweet recipes. Grilling or roasting in-season stone fruit, such as apricots, nectarines and peaches, and pairing them with creamy, goat's cheese, feta or ricotta works so beautifully. It's something incredibly simple that makes for a spectacular dish.

"Using delicious, in season ingredients, such as summer stone fruit, means you're always going to get them at their most flavoursome, abundant, and also at their most affordable."

To plate-up this salad with MasterChef finesse, Melanie's tip is to hero the special ingredients. "Forget tossing a salad. It's all about layering so those star ingredients that will wow people are right on top. In this case, start with a layer of radicchio, or rocket, over the platter and then top with the red onion pickle. Now you have your base, top it with the gorgeous grilled peaches, placed to show-off the chargrill marks, and then sprinkle with the goat's cheese, walnuts and basil."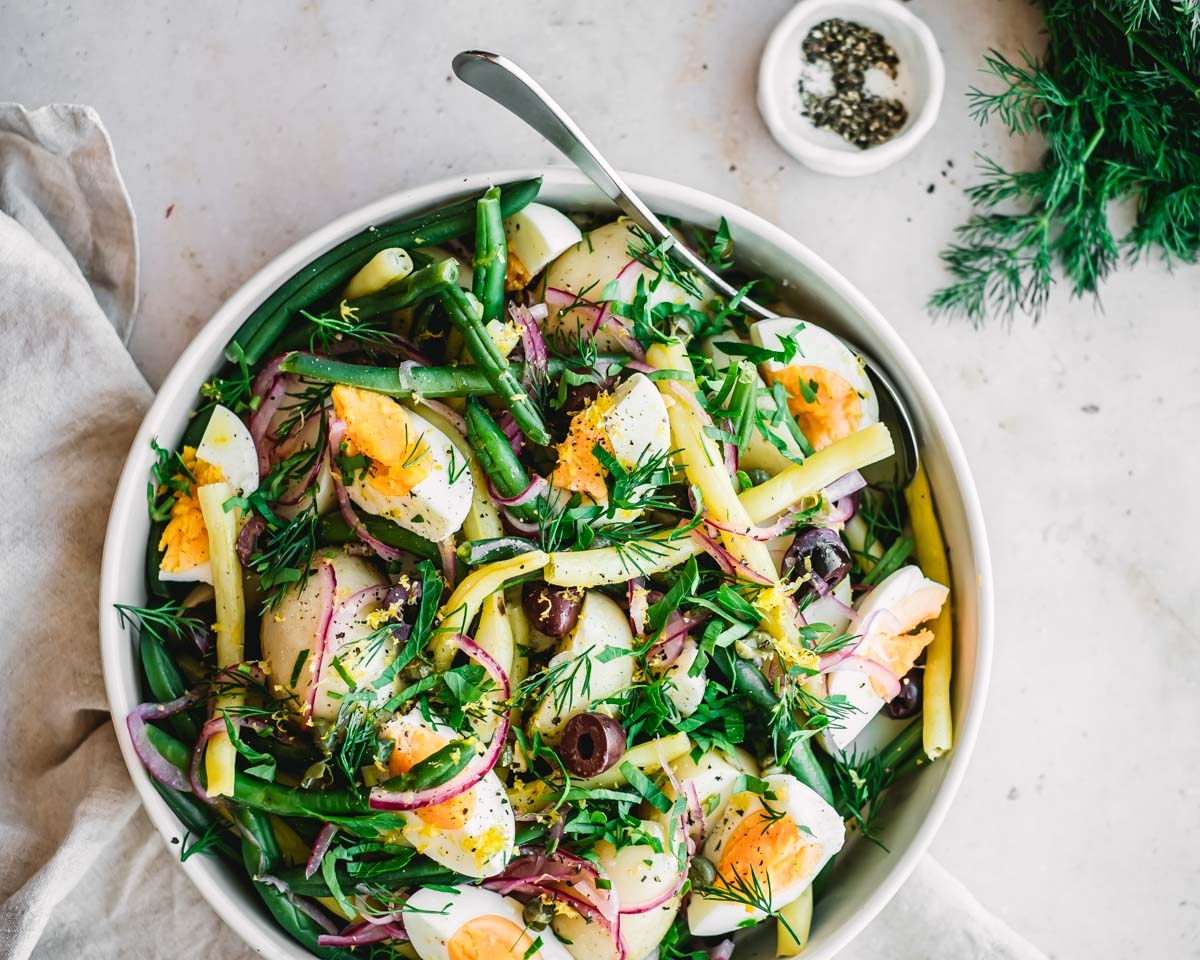 "I have been making and obsessed with Niçoise salad since I first tried it in Switzerland, about 12 years ago. At face value, the ingredients don't seem to fit, but they work so well together," said Melanie.
"This is my vegetarian version and I've added the capers and parsley as a summery flair and to freshen it up.
"During the busy festive season, this one is perfect for prepping ahead and making life easier. The potatoes, green beans and hard-boiled eggs can all be pre-cooked then popped in the fridge until you're ready to use them. That halves the effort on the day. Cooking and cooling potatoes also increases their resistant starch, which is great for supporting a healthy gut.
"It's also a great salad for transporting. The ingredients are robust, nothing too delicate, and it can simply be made in a ceramic dish that you can cover with cling-wrap, or a tea towel, to transport in. This way your dish doubles as your serving tray."
 "I created this recipe as a vegetarian roast, and something special, wholesome and festive that I could share with family at Christmas, but it's so good, I tend to make it all year-round.
"To make it even more inviting, this nut roast could not be easier. I slice and grate all the ingredients in my food processor, using the slicing and grating discs, then I just mix and bake!
"I love to make this a day before serving, let it go cold then slice it. It's firmer to slice this way and it just needs a quick reheat in the oven, so you can spend more time enjoying the day, rather than slaving in the kitchen!"

Here are Melanie's other top tips to save time and take the stress out of cooking this festive season:

Time savers – Keep ingredients mostly raw. It will not only add flavour and texture to your dishes, but also helps to save time.

Perfect preppers – Think about ingredients that you can prep ahead, to reduce time cooking when you have guests. I love farro for a salad because it pairs well with just about anything you want to throw in, plus it doesn't have to be cooked on the stove and supervised – you can throw it in a rice cooker and then it's set and forget! Other wholegrains, like quinoa and buckwheat, are also great to prep ahead. If wholegrains are the only element of your dish that need cooking, with this done, you'll feel a lot less stressed and have more time for everything else.

Bargain bases – A salad can be budget-friendly and still super delicious. It's all about how you approach it. When it comes to main ingredients, you can choose cheaper staples. Wholegrains and canned legumes, such as chickpeas and cannellini beans, are great to bulk up salads and are so affordable. Keep your fancy, and sometimes more costly, ingredients for the top.

Surprise guests – Caught out? No problems. Have a look at what's in your fridge. Even if it's looking a little empty, you may be able to refresh the veggies at the bottom of the crisper. My trick is dice or grate veggies that are getting a little older. It hides blemishes and they still taste great when you pair them with a flavoursome dressing. This doesn't have to be complicated and can be as simple as a dressing made from the citrus you have on the bench (lemon, orange, lime), mixed with extra virgin olive oil and any herbs you have.

The latest nutrition advice, plus health and wellness tips delivered to your inbox monthly