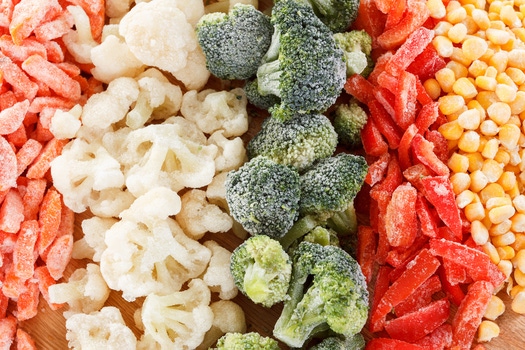 Tasty and healthy frozen veggie recipes: Here's our top 5
Whether to save money or simply for convenience, frozen veggies could be your answer to serving up nutritious and tasty dinners in a flash. Even veggie experts such as Thanh Truong, aka the Fruit Nerd, rely on a freezer stash of frozen fruit and veggies for their ease and price.   
If you're worried about nutrient quality in frozen veg - don't be! Frozen vegetables just as healthy as fresh vegetables, and in some cases even healthier. This is because the veggies are usually frozen within hours of picking making sure all that goodness is locked in.   
Here are five of our favourite thrifty and delicious, frozen vegetable recipes to try.  
Both soup and frozen vegetables are about stretching dollars and saving food, so why not double down. This hearty minestrone soup does just that and is the perfect way to use your frozen vegetables, as well as any left-over vegetables in the fridge. 
Not only is this soup high in fibre, it's also a breeze to prepare calling on ingredients mostly from your freezer and pantry. Open a bag of frozen mixed veggies, a bag of pasta, a can of butter beans and a tub of tomato paste and you're nearly there. Enjoy with a crusty wholegrain bread roll for a satisfying mid-week meal.  
TIP: This soup is freezer friendly. If something has been frozen, thawed and cooked, you can freeze it again.  
This rainbow veggie slice helps you get a range of veggie goodness in as well as wholegrain fibre to fill you up. The frozen stir-fry veggies used in this recipe give the slice lots of colour and help to make it extra quick to prepare. This slice is a good all-rounder, could be eaten for breakfast, lunch or dinner and is a popular lunchbox filler that won't come back uneaten.  
This white bean, vegie sausage and spinach stew is a rustic comforting choice for a cold winter evening. It is a good source of iron and protein from the spinach and beans and the Vegie Delights sausages. The Vegie Delights sausage also provides vitamin B12, a nutrient which is particularly important for those following a vegetarian or vegan diet, and as we get older. 
Spinach is the frozen veggie of choice in this recipe that saves you buying and prepping big bunches of the leafy green veggie. Frozen spinach could even be better than fresh according to research. When spinach sits in a truck from the farm to the shops, or sits in your fridge for a week it loses much of its nutrient content – particularly folate - while the frozen version locks it in.  
This peanut san choy bau is a dish that has something for everyone with sweet, sour and salty flavours with tender, crispy and crunchy textures. You can even make it fun for the kids by getting them to fill and wrap up the little present-like parcels.  
This recipe calls for frozen peas and corn, but you can also replace the fresh chopped vegetables with a combination of other frozen veg or a stir-fry mix for extra ease and cost savings.  
This satay stir-fry is literally a meal in minutes, less time than it takes to order takeaway. No prep time required, which is a great benefit of frozen veggies, and the result is a healthy quick and easy family-friendly meal. We've even done the calculations on this recipe and know that it comes in at around $2.80 a serve.  
If you are looking for other ways to cut down the cost of your weekly shop while still eating healthily, visit our Eat Well, Live Well, For Less resource hub.

The latest nutrition advice, plus health and wellness tips delivered to your inbox monthly