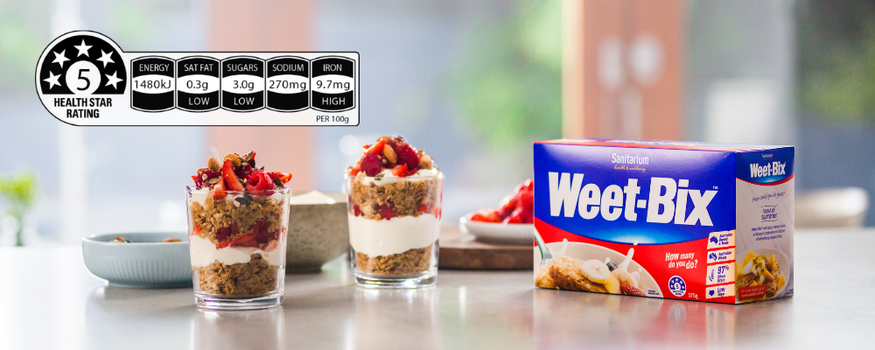 What is the Health Star Rating on food packaging?
The Health Star Rating system is designed to provide all shoppers with a quick and easy way to understand nutrition information on pre-packed foods.
The visual guide gives a snapshot of the nutrition quality of food products to make it easy for you to compare similar foods, and make healthier food choices.
How does the Health Star Rating system work?
Products are ranked on a scale of 0.5 to 5 stars. The more stars a product gets, the healthier the choice.



You can use the Health Star Rating to quickly compare similar packaged products, to see which one is the healthier option. So you can compare one breakfast cereal with another breakfast cereal, or one muesli bar with another muesli bar.
The Health Star Rating is
not meant to compare different types of foods
. So, for example, it's not meant to compare a yoghurt with a packet of crisps.
The Health Star Rating of a product is determined by using a specific calculation based on the amount of:
energy
​protein
saturated fat
sugars
fibre
sodium
as well as values for the presence of any fruits, vegetables, nuts and legumes.
Do all products have a Health Star Rating label?
According to the five year review, approximately one-third of packaged foods in Australian and New Zealand supermarkets now carry the Health Star Rating, with voluntary uptake increasing since implementation.

Some of the foods that are ineligible for a Health Star Rating include tea, coffee, non-nutritive condiments such as salt, pepper, vinegar and herbs, spices, and foods for specific purposes such as foods for infants and formulated supplementary sports foods.
Does Sanitarium support the Health Star Rating system?
We do! At Sanitarium, we're committed to the health and wellbeing of all Australians so we want to ensure the nutrition information on our products is easy to understand. That's why we were among the first food manufacturers to adopt the system and use it across our products.
We're proud to say, more than 80% of our product range carries a Health Star Rating of 4 or above!
Who's responsible for the Health Star Rating system and where did it come from?
The Health Star Rating system is a joint Australian, state and territory governments and New Zealand Government initiative developed in collaboration with industry, public health and consumer groups. It was launched in 2014.
Information about the governance and the process of developing the Health Star Rating system can be found on the Health Star Rating website.
In August 2019, an independent five year review of the system examined its impact and found that it was performing well:
Studies consistently show that the HSR system is well aligned with Dietary Guidelines and effectively directs consumers towards foods lower in energy, saturated fats, sugars and sodium;
Most consumers view the HSR system as easy to understand and use, and feel that it makes it easier to decide which packaged foods are healthier;
In Australia, 23% of consumers were influenced by the HSR to change their purchasing behaviour and purchase a product with more stars.
The HSR System is encouraging food manufacturers to make new and existing products healthier.
In 2023, a number of recommendations from the five year review were implemented. Among these, fruit and vegetables (including some canned and frozen produce) now automatically receive 5 Health Stars (the highest rating). Also, the Health Star Rating calculator has been modified so that food with higher amounts of salt and total sugars receive lower ratings.
Who calculates the Health Star Ratings?
The number of Health Stars a product receives is determined by a calculator that assesses positive and risk nutrients in food. The calculator was developed in consultation with Food Standards Australia New Zealand and other technical and nutrition experts.
Food manufacturers and retailers are responsible for the correct and accurate use of the Health Star Rating system. This includes correctly calculating the Health Star Rating, accurately displaying nutrient information, ensuring consistency of information between the Health Star Rating and a product's Nutrition Information Panel, and complying with all relevant legislation and regulations.
Food labelling
We have more information on food labelling on our Reading Food Labels page.
The Health Star Rating. Health Star Rating System. [Internet] 2014 [updated Dec 2014; cited 2016 April 21]; available from: http://healthstarrating.gov.au/

The latest nutrition advice, plus health and wellness tips delivered to your inbox monthly