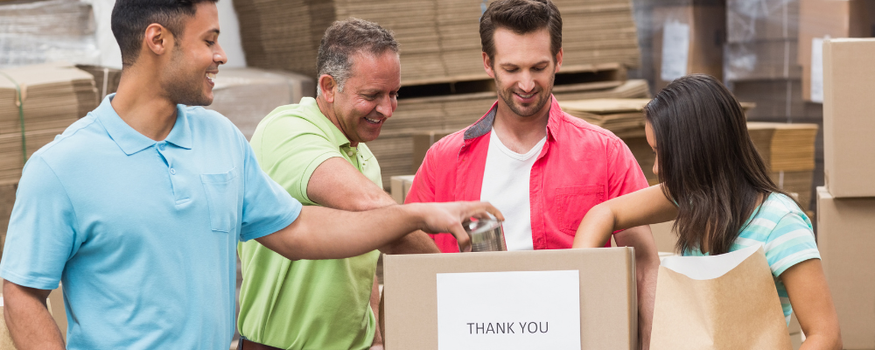 Food pantries: a lifeline of support
As two million Australian household experience food insecurity[1], support from local food panties, churches and shelters has become increasingly vital. 
As part of our long-term commitment to food security, we donate Sanitarium products to several food pantries. In the 2021/2022 financial year, over 700,000 serves of Sanitarium products supported hundreds of Aussies seeking help from their local food pantries.
Here are a few of the many local charities we support:
The Bay Food Pantry distributes food parcels to more than 10,000 people who are struggling to put food on their tables in Lake Macquarie every year.
"Poverty doesn't always look like you think it will. When we started this initiative, we were surprised to find the people we were supporting were not so many homeless people, but everyday families who might own their own cars and houses but after they pay bills have no money left for food. We believe that no family in our communities should be going to bed hungry." Pastor Sau Finau, The Bay Food Pantry.
Townsville Community Food Pantry provides up to 180 food parcels every week to pensioners, single parents, families and the homeless whose circumstances have seen their incomes drastically reduced.
"We appreciate the Weet-Bix and So Good milk we receive from Sanitarium and they really contribute to the basic list of essentials which we provide every week. Weet-Bix is always a welcomed and appreciated inclusion, providing a nutritional and well-known product." Tricia, Coordinator, Townsville Community Food Pantry
Hamilton South Community Pantry provides 1000 meals for more than 170 people every week, including the elderly, single parents, refugees and families. 
"The program strives to improve the health and wellbeing of the community through access to healthy and nutritious food. We provide low-cost groceries to the underemployed and struggling families. Our pop-up pantry services hampers, bread, fruit and vegetables in low socioeconomic areas with large amount of poverty." Teresa, Coordinator, Hamilton South Community Pantry.
Mount Druitt Food Pantry assists people in need including many families who struggle with everyday life and bills. Since the COVID-19 pandemic in 2020 the food pantry has seen a 40% increase in demand.

The latest nutrition advice, plus health and wellness tips delivered to your inbox monthly