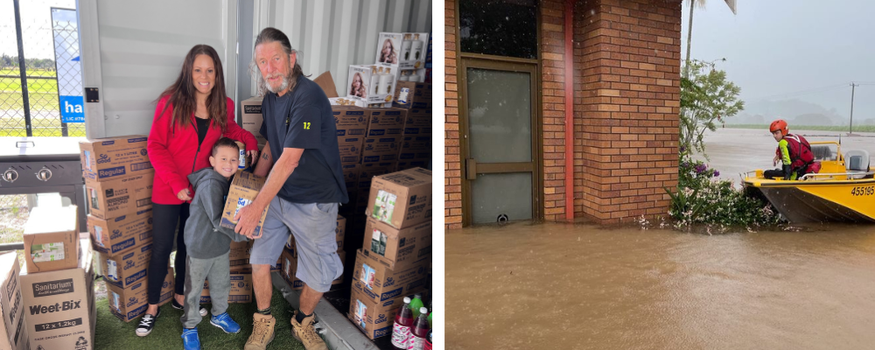 Snapshot of disaster relief
Providing food relief is our way of caring for people affected by disasters at home and overseas.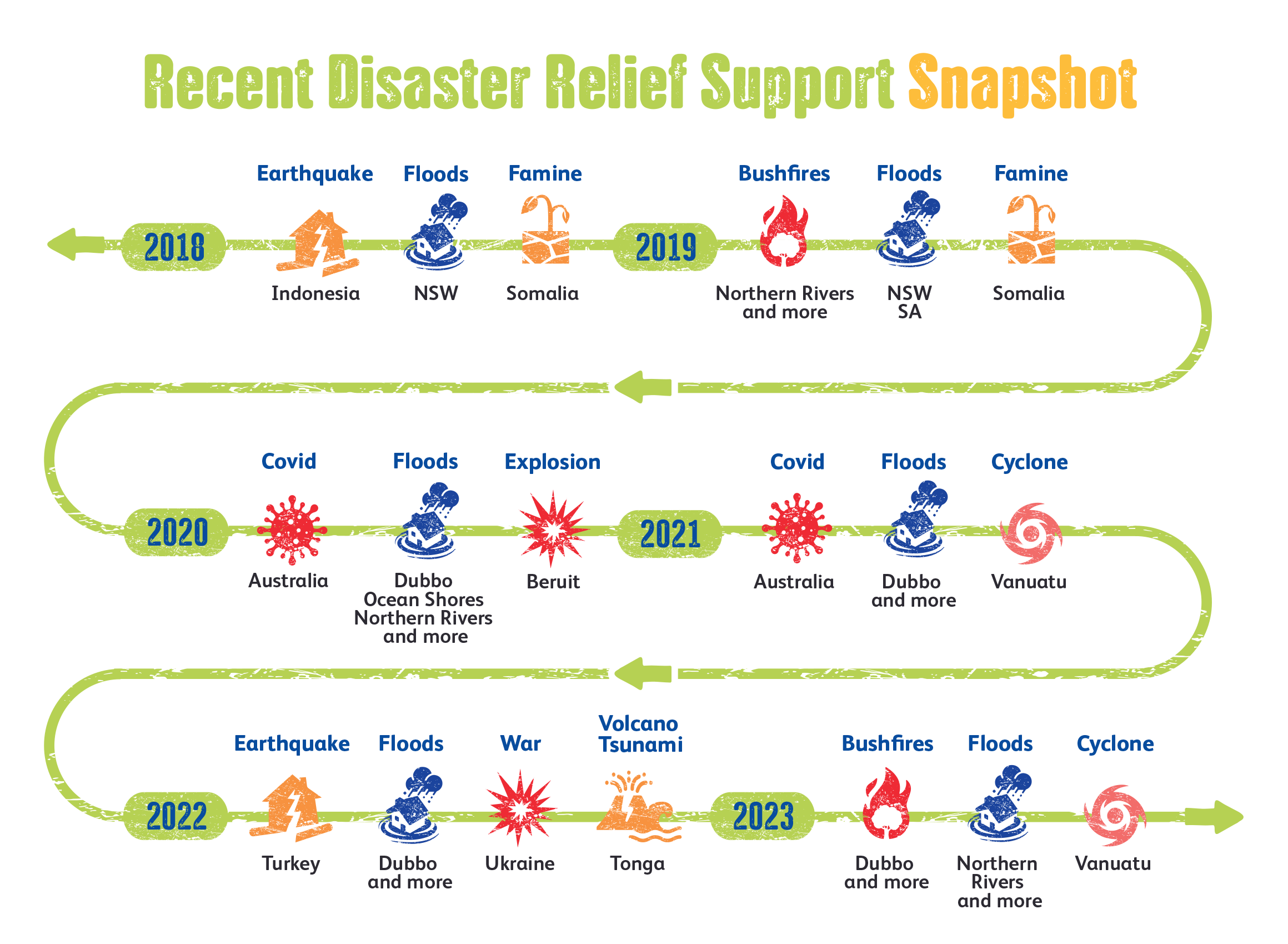 Central West NSW Floods - November 2022
Communities in NSW faced devastation after a week of floods and heavy rain. The impact included extensive damage in the Eugowra, Molong, Forbes and Condobolin towns. We provided ADRA with 20,000 serves or Weet-Bix and So Good for food relief hampers to help people in most need in Dubbo, Forbes, Eugowra, Parkes and Bathurst.
Northern NSW Floods - March 2022
"ADRA greatly appreciates the support of Sanitarium in supplying essential pantry items for 400 families and individuals impacted by the floods. The supplies from Sanitarium are nutritious pantry staples that not only lift weary spirits, but also provide hunger relief when they need it most." Murray Millar, Emergency Management Director, ADRA Australia.
Queensland endured yet another flooding in March 2022. Many towns were cut off from regional centres with no power or clean water, and people had no access to fresh food and pantry supplies. Volunteers distributed donations of close to 16 pallets of Weet-Bix, So Good plant-based milks, UP&GO, Marmite and Peanut Butter – including 4000 cases of Weet-Bix and close to 12,000 serves of UP&GO – to the people and families who needed help the most.
Fiji COVID-19 - 2021
The COVID-19 pandemic in 2021 had a particularly devastating effect on Fiji. With a population of less than one million, Fiji experienced the world's highest per capita COVID-19 infection rate. The cessation of tourism contributed to further economic decline as one third of the workforce was unemployed or on reduced hours.
That's why we donated $56,000 to ADRA Fiji to curtail the effects of COVID-19 for 3000 Fijians by:
Delivering 1006 food kits to needy families
Providing 550 personal protective equipment kits
Funding 100 hospital beds
Delivering 227 cash vouchers
Distributing 345 seed packs, and more.
NSW Floods - 2020
"I live in Wingham, which is severely affected with the recent floods, and I have just received your emergency food hamper and just wanted to send you a large 'Thank You' for your organisation's help. It has just made my day and very helpful in this dreadful time. Thank you again and to all who supply your organisation." Glenn, recipient of a Foodbank hamper
We donated 88,000 serves of Weet-Bix, So Good milk and peanut butter to support emergency food hampers by Foodbank for families who were evacuated from their homes across Northern NSW.
WA Bushfires - 2020
"We called Sanitarium and the staff were really helpful, giving us Weet-Bix and other products. We're so grateful that we had that support." Ben Tavao, Pastor, Morley Seventh-day Adventist Church Evacuation Centre
Our team in Western Australia were quick to offer support when a bushfire devastated Wooroloo in the Perth Hills in February 2020. The fire destroyed 86 homes and threatened many more.
Our Carmel factory donated 828 serves of Weet-Bix and other stock directly to the evacuation centre, contributing to emergency food hampers for people in need on the frontline.
Overall, we donated over 10,200 serves of Weet-Bix, So Good, UP&GO, peanut butter and marmite as food relief to the people of Perth.
Beirut Explosion – 2020
In September 2020, Sanitarium donated So Good, Weet-Bix and peanut butter to support the victims of the devastating explosion in Beirut, Lebanon.
The team at Toll Group organised a charitable donation delivery with several international air containers filled with donations from Toll customers. Toll filled the containers with rice, flour, white sugar, pasta, nappies, wipes, bandages, medical consumables and personal care items.

The latest nutrition advice, plus health and wellness tips delivered to your inbox monthly