Feeding Aussies with affordable healthy foods
600 tonnes of sugar removed from the breakfast menu
As part of our campaign targeting the reduction of sugar in the original UP&GO blue box, we have removed a further 600 tonnes of sugar from the Trans-Tasman Liquid Breakfast market*. 

UP&GO No Added Sugar was launched in Australia in January 2020 in Chocolate and Vanilla, offering a solution to consumers who had not previously purchased within the liquid breakfast category.

* Calculated on scan sales for the period of July-December 2019

19 million kilos of wholegrain goodness consumed across Australia
Australians consume over 19 million kilos of wholesome Australian wholegrains which includes over 2 million kilos of dietary fibre a year by eating their favourite breakfast cereal, Weet-Bix Blue.

We have identified that Weet Bix contributes an estimated 3.3% to the Australian population's Thiamine intake, 2.1% Riboflavin, 1.1% Niacin, 2.3% Folate, 3.0% Iron, 1.1% Magnesium – that's a significant contribution.


Sanitarium scores in top 3 healthiest brands
Sanitarium was acknowledged by The George Institute for Global Health's annual FoodSwitch: The State of the FoodSupply report (2020) as one of the top three healthiest brands. 

Released in September 2020, the report ranked nearly 22,000 processed and packaged foods available in Australia comparing benchmarks such as the Health Star Rating system and the Australian Dietary Guidelines.

Own label brands across the major supermarkets, which account for about a third of all products in store, were included alongside 31 manufacturers. 

Sanitarium, Nudie Foods and The a2 Milk Company were found to have the healthiest products, scoring a mean health rating of 4.2.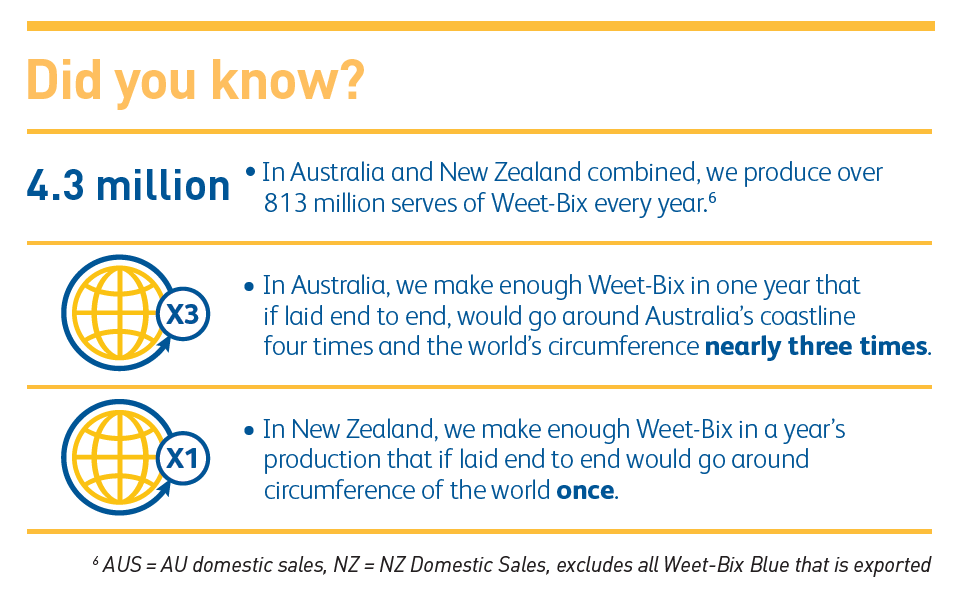 The latest nutrition advice, plus health and wellness tips delivered to your inbox monthly