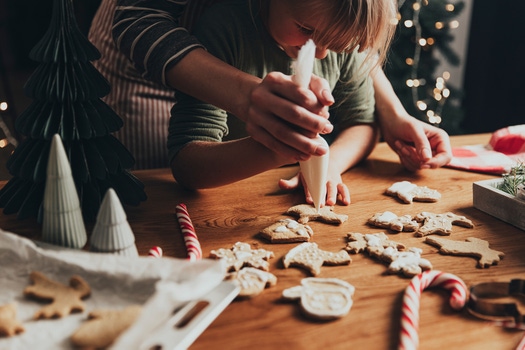 Christmas meal prep plan to save money and time
Christmas is a time to be thankful, surrounded by family and friends, but if it's your turn to host, Christmas Day party planning can be stressful and expensive. 
With cost-of-living pressures intensifying and Christmas just around the corner, planning ahead is a good strategy to save money and time in the kitchen on the big day.  
Here's our five-week plan to help you prep like a pro, so you can enjoy a festive feast that makes the family feel extra special without breaking the bank.
5 weeks out
Set a budget – This is one of the most important steps, as it can be easy to get swept up in the Christmas spirit and spend beyond your means. Create a realistic budget based on the amount of people you're hosting and don't feel bad about asking guests to bring a dish to help keep costs down.  


Plan the menu - Cater for the number of guests coming, not the whole rugby team.  As well as saving money this will help to cut back on food waste and leftovers. Then think about what you can whip up in the kitchen versus what you need to buy, factoring in what others may bring and see how it all fits together. Try to balance costly dishes with thrifty ones - a plant-based menu is a great way to bring the costs down. From Christmas nut loafs to rustic veggie tarts, plant- powered dishes will help bring the wow, without the pricey ingredients. 


Make a shopping list – Once you have the menu set, write a list of all the things you need to buy divided by perishable and non-perishable items. Keep it close by, either in a list on your phone or on a piece of paper in your wallet, so you can lookout for specials on non-perishable or freezer-friendly items. Otherwise gradually add the non-perishables to your regular weekly shop to make the costs feel less overwhelming.  


Be supermarket savvy – There are plenty of ways you can ensure you get the best price for the items you need, from keeping an eye out for online discount codes to crunching the numbers in retailer catalogues. 
TIP: When comparing products, look at the price per 100g or 100mL to make sure you are getting the best deals. There are also apps, such as frugl, which can help you compare prices across the big supermarkets, so you get the best bang for your buck. 
4 weeks out
Get freezer-friendly – Desserts are an easy item to make and freeze in advance. Ice cream in particular will be a winner when the temp starts to soar on a sunny Christmas day. Try your hand at these Christmas-inspired pudding and custard ice blocks or Weet-Bix ice cream bombe – a deliciously cool take on a Christmas pudding.  
3 weeks out 
Get your gift on - Make a double batch of something delicious like these Christmas snowballs or festive Christmas cookies. Freeze half for family celebrations and use the other half as gorgeous home-made Christmas presents to thank a teacher or colleague. Here's more affordable homemade gift ideas to get you started.  

TIP: Wrap some gifts in tea towels for a waste-free alternative, plus your family and friends will love the new tea towel too. 
2 weeks out 
Make the Christmas cake – If you haven't made a frozen dessert, try this scrumptious and healthy Christmas cake. It's packed with fruit and isn't sickly sweet. And the best bit- it can stay fresh in the pantry or freezer for up to two weeks, making it ideal for early prep. This delicious Macadamia Christmas Cake is also a family favourite that can be made up to two weeks in advance. 


Fridge and pantry review – It can be tempting to over-order to be 'safe'. This is one of the most common ways to blow the budget. With two weeks to go it's a good time to do a stocktake and cross-check what you've already bought, what other people are bringing and what's already in the freezer and pantry. It'll help you stay on top of your list, your budget and avoid overordering. Remember, many of the big retailers are still open right up to Christmas Eve if you really do need anything last minute.  


Online ordering – Getting your groceries delivered can save you much needed time and money. It's often easier to stick to your list when shopping online. However, get your orders in early. Delivery slots book out fast, especially at this time of year.  
TIP: when shopping for groceries online sort your results by 'lowest unit price' so that the best value items pop to the top of your list. 
Subscribe to Wholicious Living to stay up-to-date with the latest health and nutrition advice.
Week prior
​Tasty trimmings - Condiments like sauces, marinades, salad dressings and gravies make all the difference and can transform your meal from drab to fab, and you can easily prep them in advance. This easy miso gravy can be made ahead of time and will last in the fridge sealed for up to a week.  
Start a schedule – Party planning can be an overwhelming and stressful task when you feel like you've got a million things to do. At this point, create a list of what's left to do for your party and your meal prepping, so you can tick them off over the next week, or determine if there's additional actions that need delegating.  
Day before 
Prep your veggies – There's plenty of ways you can save time by prepping your veggies the night before. Parboil your vegetables if needed to reduce cooking time on the day, chop herbs or slice salad items in advance. They'll be fine in the fridge for 24 hours.  


Set the table – Sometimes simple homemade or foraged decorations are just as nice as the fancier ones, and they're free! Try incorporating a tablecloth with some greenery from your garden for a beautiful, natural spread. Finding local flora and fauna is a great activity for the whole family, or task the kids with creating some cute crafty name tags. 


Make festive drinks – When you've got a big, thirsty crowd, it can be easy to blow the budget on drinks. But there's plenty of homemade options that'll satisfy kids and adults alike. Water is the best option for keeping hydrated. For a festive twist, try adding fruit and herbs to jugs of water or make your own healthier twist on lemonade or sodas. 
The big day 
Relax and enjoy – Merry Christmas; you did it! By prepping in advance you'll hopefully enjoy a stress-free lead up to Christmas and feel ready to relax with your loved ones. Delegate jobs on the day so you have more time out of the kitchen, or at the very least, time in the kitchen laughing with loved ones. Everyone will be happy to lend a hand and share in creating a special day. 
From all of us at Sanitarium, we hope you have a happy and healthy Christmas!

The latest nutrition advice, plus health and wellness tips delivered to your inbox monthly