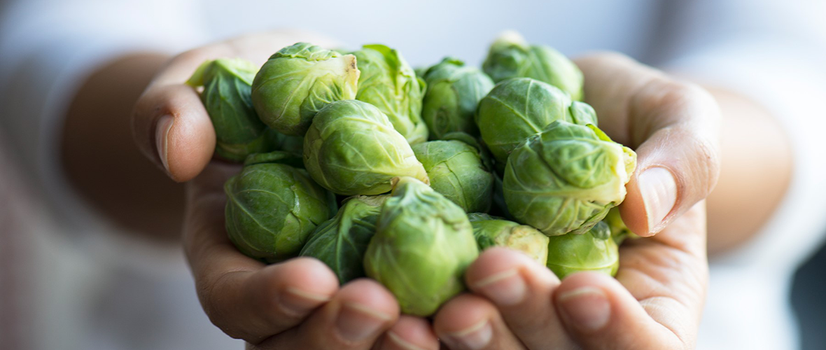 Loathed to loved: must-try tips for transforming vegetables
If you've been scanning Instagram for delicious plant-based inspiration, chances are you've spotted chef Tom Walton. His stunning recipe videos that transform simple ingredients into mouth-watering dishes are so captivating, he's amassed hundreds of thousands of fans in a matter of months.

Tom's veggie-centric approach was inspired by Mediterranean cooking, something he learnt from his 'adopted' grandmother (his Lebanese neighbour) who taught him how to forage for herbs, enjoy what's in season, and add loads of flavour to the most basic of meals. He then perfected his cooking at some of Australia's top restaurants including his iconic The Bucket List in Bondi. 

"With most veggies, simple techniques like using high heat and allowing that natural caramelisation to come through really brings out the best in even the most basic veg," said Tom. 

"A clever arsenal of herbs, spices and sauces can also help take your veggies to the next level." 

We all know veggies are good for us, but that doesn't mean we love them, or eat enough of them. So, can you make veggies truly, drool-worthy delicious and convince the family they're yummy?  Absolutely!

Here are Tom Walton's 6 tips for creating plant-based magic in the kitchen. Let's start with Brussels sprouts!
Brussels sprouts 
Brussels sprouts are a divisive veggie. Much like coriander, they're either loved or loathed. But Tom has a few tricks to win more of the family over to team Brussels sprout. 

"The Brussels sprout is one of those veggies that is often cooked more traditionally, like boiling and steaming. And that just doesn't bring out the best in them," says Tom.  

"My tip would be to get some nice caramelisation action, and almost overcook them so that they're crispy on the outside and soft in the middle. Roasting them does that quite well, same with air-frying or even stir-frying and getting a nice char on them. My miso and ginger Brussels sprout soba noodle salad recipe is a great way to enjoy them in a classic stir-fry family-favourite meal" 

Tom's also a fan of eating Brussels sprouts raw. "They're basically like baby cabbages, so you can use them like you would in a coleslaw and they're really delicious. I like to finely shave them into a salad and dress them with a nice sharp vinaigrette made with lemons or vinegars." 

Check out my Brussels sprout soba noodle salad recipe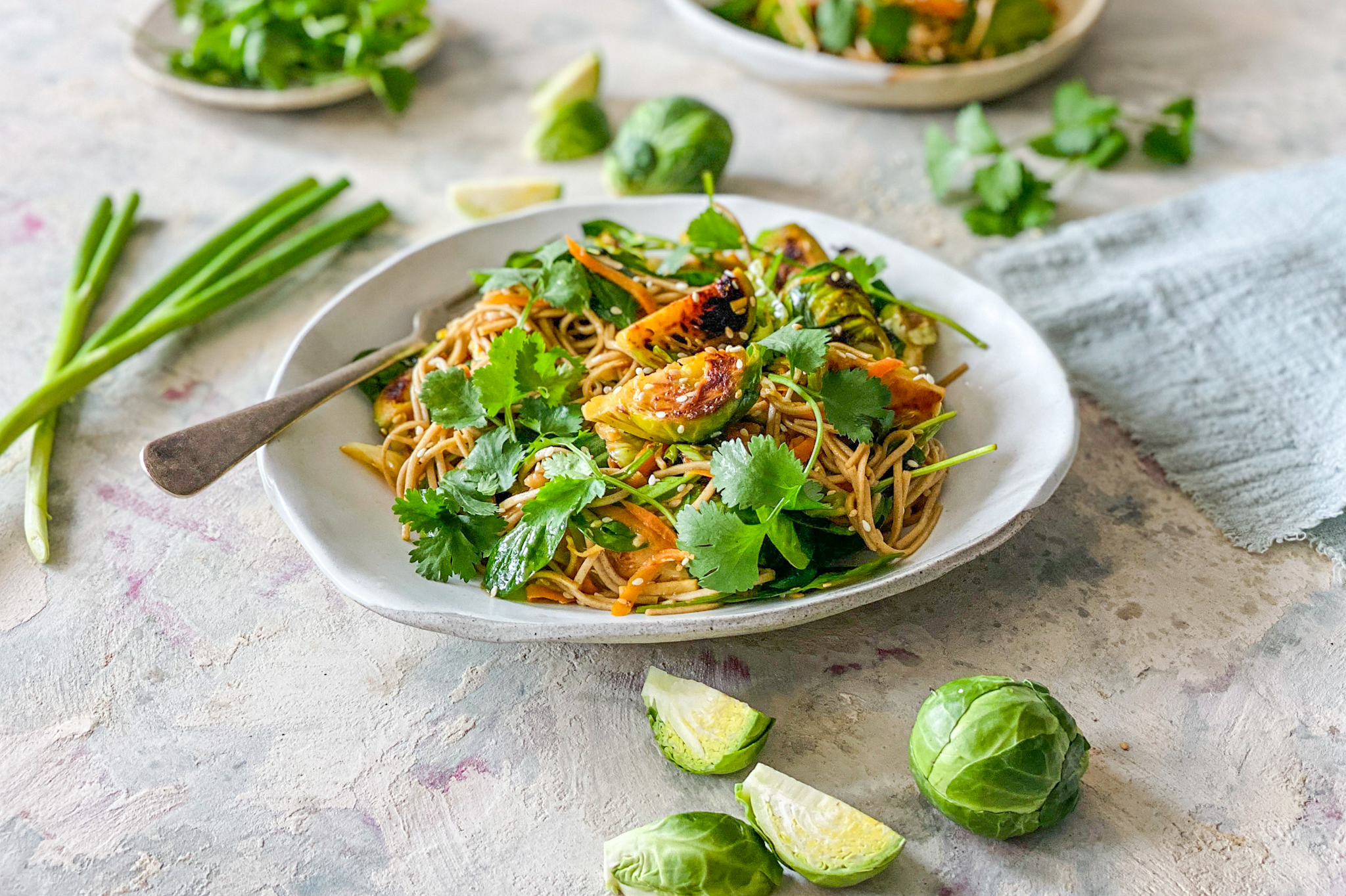 Dress your vegetables  
"Having great sauces in the fridge can really make a meal. You know those times when you look in the fridge and just feel really uninspired? Often I'll spot a sauce ready to go, see what leftover veggies I need to use and I've got dinner sorted," says Tom. 
Some of Tom's favourite fridge and pantry staples are his garlicky whipped tahini, spicy herb dressings, Romesco sauce (all perfect for layering your meal), and pomegranate molasses. On hand he also has wedges of citrus (lemon or lime), different kinds of vinegar, chilli oil, za'atar, pickles, curry powder and whole fried spices. "Don't be afraid to add flavour to your food".  
The simplest way to do this is to drizzle or sprinkle flavours on to finish a dish rather than mixing them in; that way the flavours sit in layers and you can build more depending on your taste preferences. It's a less serious approach that ends up much more enjoyable and memorable." 
Adding your flavouring, like salt, at the end of the cooking process is also a great way to manage healthy salt intake, as you're only adding what is needed after tasting the finished dish, rather than adding more than necessary as you cook.  


High heat gets better results 
"Simply allowing temperature and time to create caramelisation is an effective way to transform the flavour of your veggies. It changes the whole flavour profile, from fresh and crispy and raw to ending up with something that's deliciously caramelised," says Tom. 
Tom's top tip for roasting veg is to turn your oven up really high (around 220°C) and then adjust your cooking time, so you're roasting for shorter than you normally would. "Vegetables have a lot of water content so if your oven is too low, and you put a big tray of veggies in the oven, you're basically just creating a steaming atmosphere. Turn up the temp for delicious, gnarly, roasted veggies," says Tom.  
Try unusual combinations 
"One of my go-to's for winning the family over when it comes to under-utilised vegetables, or veggies that they think they hate, is to pair them with really exciting flavours," says Tom.  
"If you're trying something that your family is unfamiliar with, it can help to pair them with familiar flavours, like other veggies that you know they love. This helps to bring them across the line a little more, and makes veggies more approachable." 
Tom suggests pairing ingredients the family likes with more unconventional ones to experiment, such as adding turnips to a tray of pumpkin and roasting them all together.  
He also stresses the importance of thinking about flavours that make your cooking exciting. Tom calls this 'unbalancing flavour'. "If you perfectly balance a dish, I find it boring" says Tom. "I like using sours, vinegars, garlics and chillis to really add excitement to a dish."  
Stop boiling vegetables 
"To excite the family about eating more veggies, and make them the superstar on the plate, think of vegetables like meat. Meat lovers don't crave a boiled meat, they're craving a charred steak," says Tom. 
To make vegetables the star of the show try basic cooking techniques like grilling, sautéing and roasting, and practice those.   
"One of my favourite dishes is taking a nice wedge of broccoli, like a 'broccoli cutlet'. Simply char it on a barbeque, or roast in the oven with lemon or salt or parmesan – it's much more exciting than boiled broccoli. Same with pumpkin, zucchini, eggplant – they all just need good seasoning and then apply a nice high heat to them." 
Don't overcomplicate it
"Generally, the less you add, the healthier it will be. And often it's only one or two ingredients that are needed to transform your veggies," says Tom.  
"Taking Brussel sprouts again as an example, because I'm determined to improve their taste reputation, if you fry up a bowl of crispy Brussel sprouts and put lemon and salt on them, they taste amazing. I'd eat a whole bowl! Or try roasting Brussel sprouts with a little bit of olive oil and salt and pepper, throw them in the oven at a really high heat for about 20-25 minutes – super easy and so delicious." 
A final word from Tom, "have some fun with it and enjoy the process. The more you cook, the better you get!" 

The latest nutrition advice, plus health and wellness tips delivered to your inbox monthly