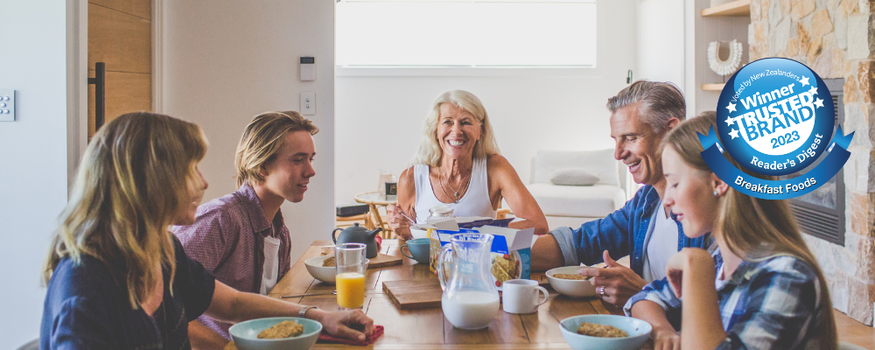 Kiwis vote Sanitarium as their most trusted breakfast brand
Sanitarium is pleased to be voted again best breakfast brand for the 13th year running. It's a privilege to be recognised by Kiwis in our drive to be trusted in nutrition. We value the trust consumers have in our company and our brands to deliver to them products that represent high quality, affordable nutrition.
We are committed to offering healthier food choices because we know it leads to better lives, happier people and stronger communities. Kiwis trust us to keep our promise of helping people to create a healthier future.
The Reader's Digest Most Trusted Brand survey has a long-established reputation as a measure of brand preference in New Zealand. This survey has been conducted for 24 years both in NZ and globally. The survey is independently commissioned, by Catalyst Research, and polled a representative sample of New Zealanders, with nearly 1,700 respondents ranking brands on consumer trust levels.
As proudly 100% New Zealand-owned, Sanitarium's approach to food is to provide the community with truly nourishing, affordable plant-based foods. It's the reason Sanitarium started almost 125 years ago, and it will continue to guide us into the future.
We are also committed to serving our communities by investing time and resources in national and local community initiatives that encourages a healthy and active lifestyle.
Read more about our social purpose.

The latest nutrition advice, plus health and wellness tips delivered to your inbox monthly