Easy veggie meal prep to get more serves in your week
Easy meal-prep to get more veggies in your diet
We all know we should be eating more veg, but how many of us are actually hitting the 5 serves of vegetables a day target? The Ministry of health says that most New Zealanders don't eat enough vegetables. So we have partnered with a well-known foodie Sneh Roy to share how, with a little planning, you can easily incorporate more veggies into your diet.
Sneh Roy is the force behind the award-winning Cook Republic blog filled with terrific meal prepping guidance, veggie-packed recipes and helpful kitchen tips. Her Instagram page has amassed 155,000 followers.
"Veggies are so good for you," Sneh says. "We need to be eating more, but they're often overlooked because people think they are time-consuming to prepare. But that's just not true."
Be prepared
By spending a couple of hours on the weekend preparing for the week ahead, and investing in some glass storage containers, you can have veggie-packed breakfasts, lunches and dinners ready to go in minutes.
And when Sneh says prepare, she's not just talking about making a meal ahead of time, but also getting your veggies chopped and having accompaniments such as pestos, dressings, dips and sauces prepped for a stress-free week of eating well.
Sneh says that meal prepping is not only fun, but one of the best things you can do for yourself and your family when you're pressed for time, and she's got it down to a 6-step process (detailed below).
"Imagine if, when you are faced with the frustrating thought of, 'What can I make for lunch or dinner?', there is a fridge packed with delicious, vegetable-forward food you prepped and packed away at the weekend. It is the best feeling in the world," she says.
Before you start meal prepping
Make sure you've done your shop and have all the ingredients at hand.
Have the recipes printed or handy on your devices.
Ensure your countertop and sink are clean and empty.
Have 4-5 bowls or containers of varying sizes on standby. This is to make organising your chopped fruit and veg easier when cooking. And remember, you can often keep those leaves, stems and stalks in other recipes so keep as much as you can to avoid food waste.
Pack your prepped ingredients in air-tight glass containers and jars in the fridge or in freezer-safe containers in the freezer (after you have cooked and cooled it).
Work in 25-30 minute intervals with a 5-10 minute break to have a drink of water/cup of tea and tidy up before moving on to the next part of the prep.
Time to prep - Sneh's 6 simple steps 
1. The extras
Firstly, get the oven going to roast a big tray of mixed vegetables. Then get some small saucepans going to cook quinoa, rice or bulghur, which will be used in other recipes during the prep. These cooked grains plus tinned legumes make a wonderful base for roast veggies, a chopped salad, a plant-based burger or a nourish bowl to make use of weekly leftovers. Then, prep leeks, onion and garlic, which form the base of a lot of meals. Having these chopped and stored away in containers in the fridge makes dinner time a lot easier. 
Try it: In these delicious tray-baked roast veggies, Indian-style here, and Japanese-style here.   
2. The blend
Next up is the easiest way to get more vegetables in your diet – make a delicious, veggie-packed smoothie. Green smoothies provide a wonderful blank canvas of leafy greens to play around with. Spinach, lettuce, silverbeet and kale are perfect for green smoothies. Avocados add good fat and creaminess while a combination of pineapple, cucumber and celery add fibre. Add a spoonful of peanut butter for a protein hit, and some wholegrains like a handful of oats or crushed Weet-Bix to make this a well-balanced breakfast on the go.
Your smoothies can last in the fridge ready to be grabbed for quick brekkies for the next 3-4 days. Pour the mix right to the top of the jar and tightly secure the lid. By making sure there is no air between the smoothie and the lid the mix won't oxidise and will stay fresher for longer.
Try it: In this refreshing Green pineapple smoothie that will transport you to the tropics.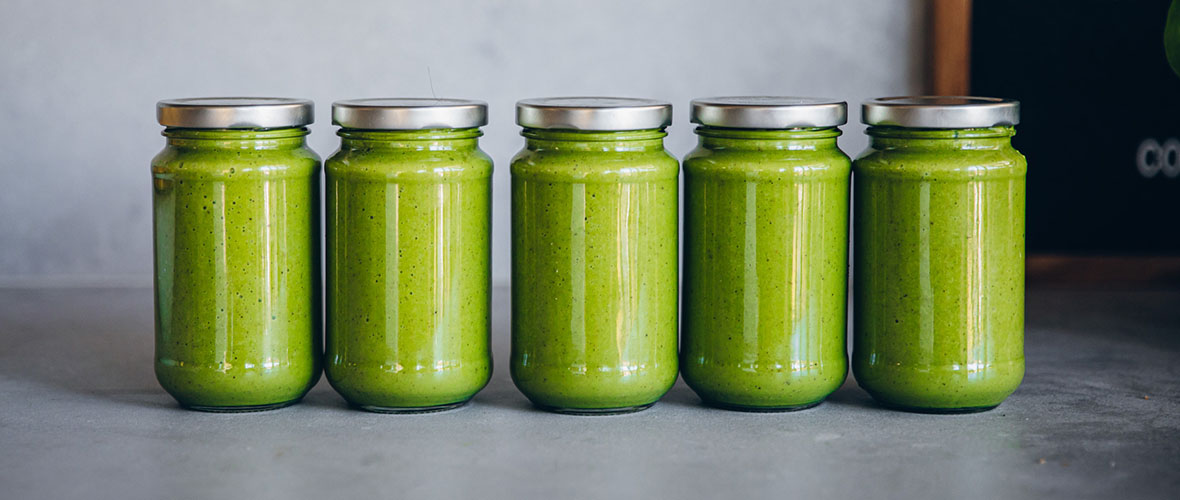 3. The chop
Chopping vegetables is not only therapeutic but perfect for salad prep. Depending on the recipe, Sneh chops and stores prepped veggies in glass containers ready to be mixed with salad dressings at the time of serving. Chopped hard veggies with less water content, like cabbage, carrot, spring onion, leek, broccoli, cauliflower and capsicum will stay fresh in airtight containers for up to a week, while softer veggies like tomato, courgette and cucumber will last 2-3 days. Your salad dressings will last for 2-3 days.
Try it: In this delicious deconstructed Chopped falafel salad that doesn't actually have any falafels but tastes just like a falafel wrap. Easy eating at its best!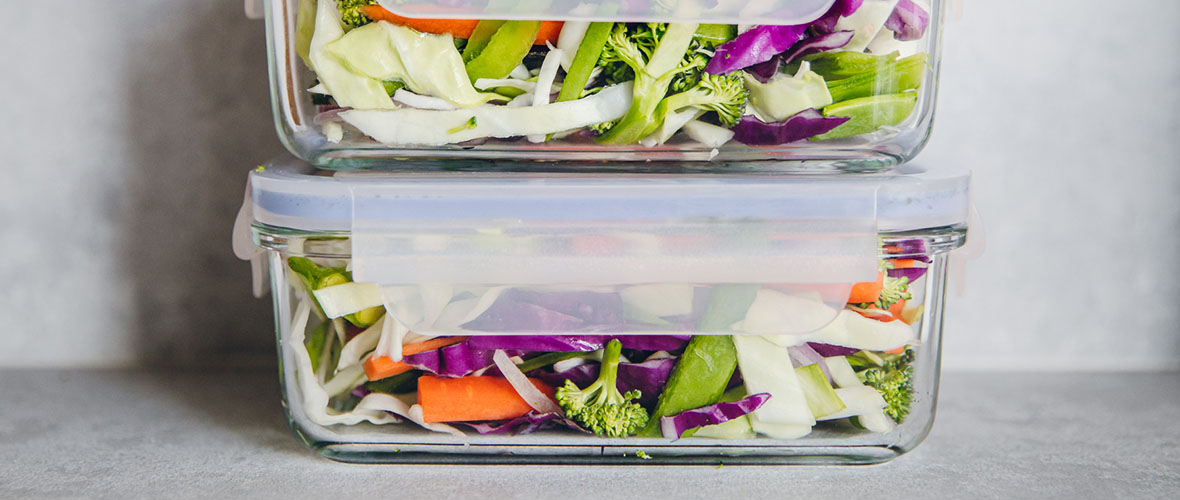 4. The cook
This is the part of the meal prep where you prep and cook the entire recipe for later. Meals that are not only packed with vegetables but are easy to freeze, reheat and eat. Veg curries, soups, noodles, burger patties and veg-loaded fried rice make excellent make-ahead meals.
Try it: Try Sneh's new super easy Baked veg fried rice with crispy tofu created just for us. You can also try this protein-packed Chickpea garden burger then stuff the bun with added avocado, beetroot, lettuce, pickled onion and tomato for extra veggie goodness on the day, or this delicious Asian rice noodles that makes the most of those pre-chopped veggies.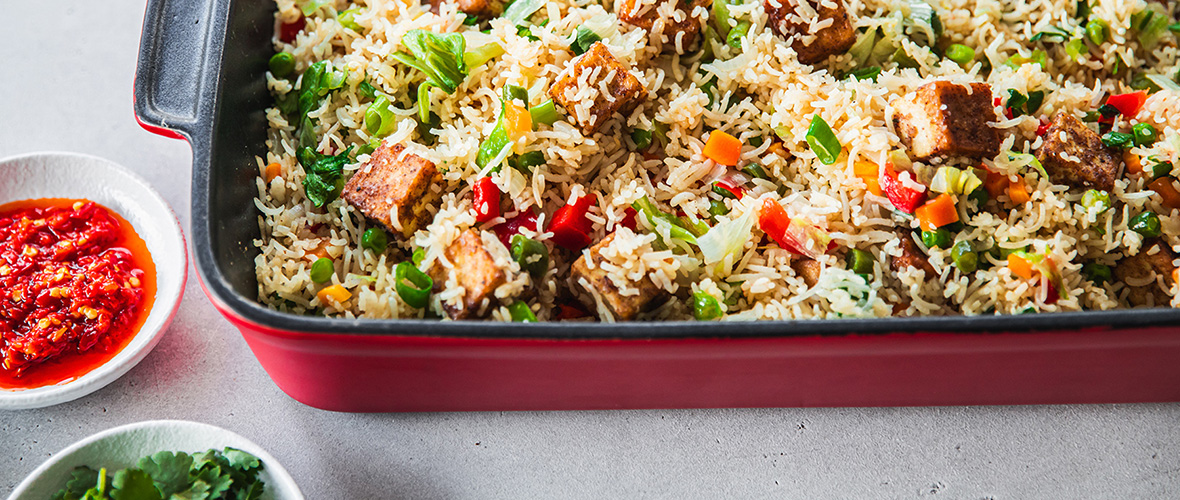 5. The mix
There is no cooking required in this part of the process. This is one of Sneh's favourite parts of the meal prep where you make side dishes by mixing a few ingredients. Canned pantry ingredients and fresh produce come together in bowls, mini processors and blenders to make delicious salsa, dips, pestos and hummus – all loaded with vegetables. "If you make a nice pesto, you can do so much with that to flavour-boost your veggies throughout the week," she says.
Try it: In this fresh and tangy Texas caviar dip filled with beans and vegetables and plenty of crunch, or this Beetroot hummus dip.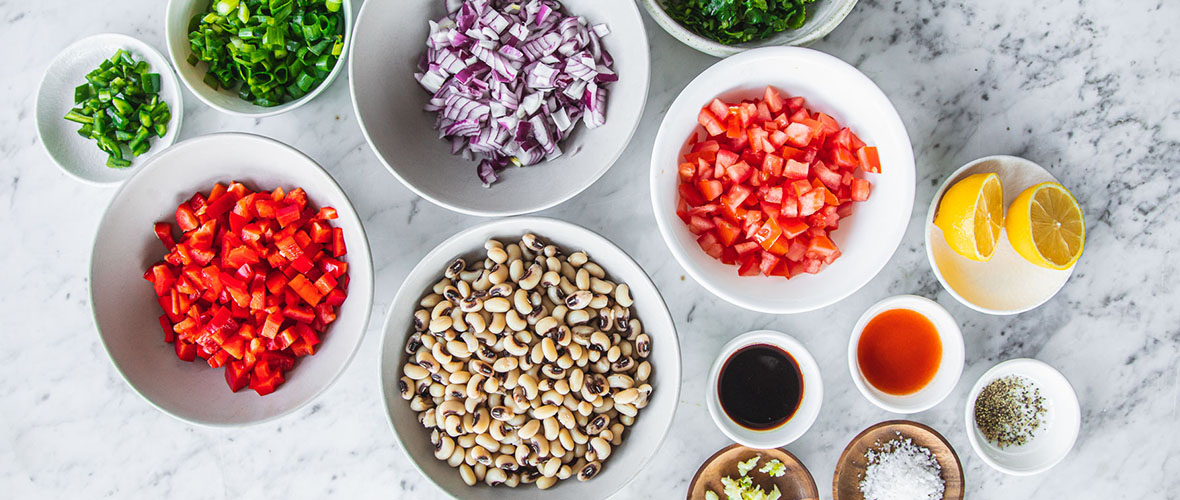 6. The sweet stuff
No meal prep is complete without something sweet. Whether you bake muffins, brownies, cakes or mix overnight oats and chia puddings, don't forget they're an under-utilised way to add in more vegetables and fruit.
Try it: In these Wholesome carrot muffins – the kids won't event know the veggies are there! Or try these decadent Kumara brownies ready for that afternoon pick me up or popped into the kids' lunchboxes.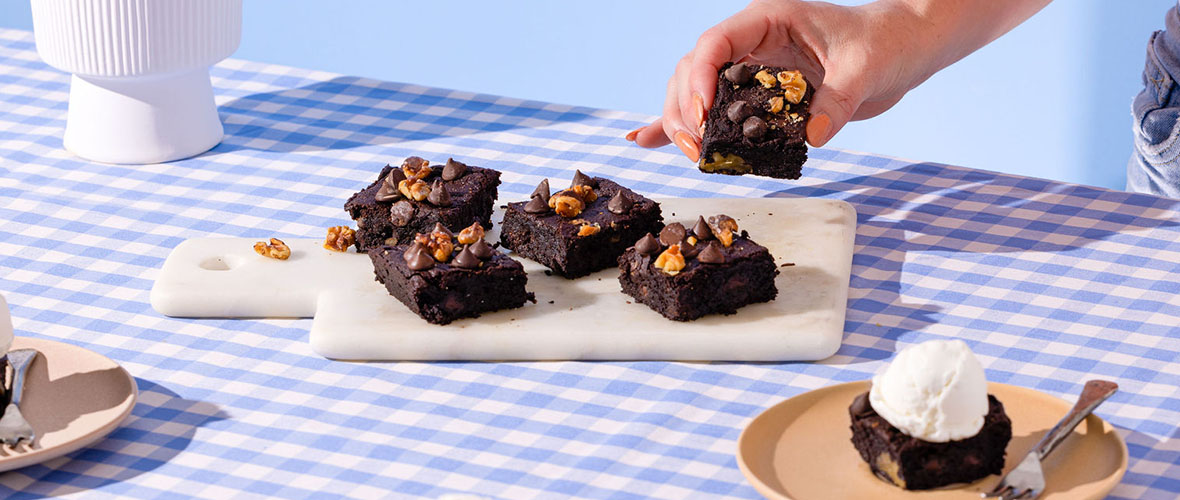 The latest nutrition advice, plus health and wellness tips delivered to your inbox monthly