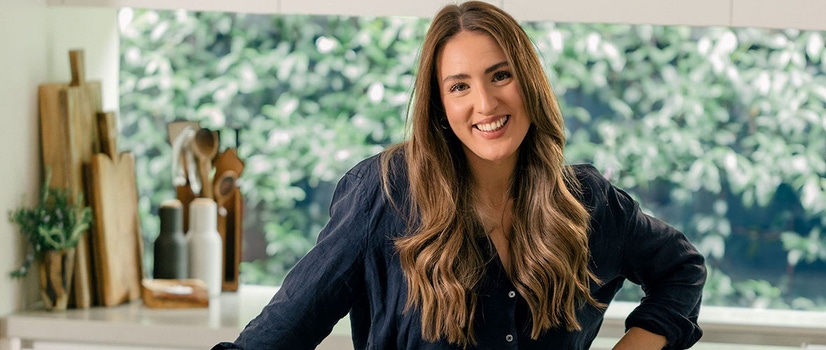 Quick and healthy dinners to keep your family well this flu season
Before the youngest family members start bringing home all sorts of sniffles and bugs, let's find some tasty meals to help keep your family well this winter.  
What nutrients do you need for strong immunity?
It takes more than vitamin C to support a strong immune system. Sanitarium dietitian Trish Guy said the vitamins and minerals you need for good immunity are vitamins A, B vitamins (B6, B12, folate) vitamin C, vitamin D, and minerals zinc, iron and selenium. 
"These vitamins and minerals work together to help maintain our natural defences. And while it does look like a long list you can get all this goodness from eating well. Just try and eat a range of fruit and veggies as well as wholegrains, nuts and legumes," says Trish. 
"Winter comfort foods are great for dialling up the nutrients with soups, curries and casseroles. The ideal recipes for adding extra veggies, a tin of legumes or a handful of wholegrains, like barley, for more nourishment." 
To help us pack in the wholesome goodness, we've asked one of our favourite s to share her favourite winter-warmer recipes. Ashley Alexander has almost 340,000 avid followers of her droolworthy Instagram channel of Gather and Feast and she is an expert on creating delicious, wholesome dinners that will even have the littlest members of the family reaching for more. Tick! 
With 2 children under the age of 3, Ashley understands the importance of making time in the kitchen count and making clever use of whatever is on hand to save a few dollars too.  
"Now that I have 2 small children, I need to be way smarter with my time. When making meals like soups or curries I make a double batch and freeze for when I'm super busy," says Ashley. 
"I like to make sure my pantry is stocked with wholesome basics like tinned tomatoes, lentils and legumes, pasta and onions. If there's no meal planned this takes the stress off and means I can always dish up something healthy and hearty like a curry, pasta or a soup with little thought. 
"In winter I also like to use in-season root veggies and wintery greens. Eating in season is when fruits and vegetables are going to be the most flavourful, nutritious and most budget-friendly, too."  
Here are two of Ashley's favourites she can't wait for you to try.  
Pumpkin, kumara and lentil soup, topped with crispy olive oil and garlic lentils
"This soup initially came about by accident. I had some leftover pumpkin soup that needed to be bulked out to create another meal, so I added in a can of lentils I had in the pantry, and it was delicious. I have continued to refine this since, and it has become a regular in winter," says Ashley.   
"I love a smooth yet hearty soup, with lots of warming spices, turmeric, and garlic. It's nourishing and comforting and like a warm hug in a bowl." 
"This soup also freezes so well, so I can double the recipe and freeze for later, or keep a container in the fridge for quick and easy lunches." 
Why not check out our other freezer friendly soup recipes, that are great for meal prep planning for the family.    
More of Ashley's hot tips: 
You can customise this soup to use what you love, what is available, and what is cheap. 

Try swapping in chickpeas or butter beans in place of the lentils. A scoop of cooked farro, barley or brown rice would be a delicious addition too. 
Why our dietitians love it?  
There are loads of tasty plant foods to provide immune supporting nutrients and warming spices such as ginger, tumeric and garlic that also help to fight inflammation.   
Super green loaded baked potatoes with a creamy green tahini dressing
The humble potato is extremely versatile, a pantry staple and kind on the purse strings too, but did you know they also pack a punch when it comes to contributing a range of nutrients your body needs to keep you fighting fit this winter?  
It should come as no surprise that Ashley is a self-professed potato lover.   
"At the start of winter, I get very excited for soups, stews and curries, but after a while I get a bit over them and love a good baked potato. 
"This super green loaded baked potato recipe is perfect for when you are sick of heavier winter meals. It is the best of both worlds! It has the heartiness and warmth of the potato as well as a burst of freshness and crunch from the herbs, fennel and cabbage. 
"This recipe ticks all the boxes, it is cheap, hearty, fresh, healthy and uses all parts of the veggies, meaning no waste." 
More of Ashley's hot tips: 
All elements in this recipe can be made ahead of time and stored separately in the fridge ready to be assembled and served.  

You can make double and do two meals, as it will last for 3 days in the fridge. 

Try swapping potatoes for sweet potatoes/kumara. 

Great DIY meal to involve the kids in -  lay the toppings out so they can choose their own – ideal for fussy eaters. 
Why our dietitians love it?
The humble potatoes provides more goodness than you may think. They include vitamin C, potassium and niacin.  This recipe loads them up with deliciously good greens and herbs for extra immune supporting nutrients and fibre.  
Looking for more healthy and hearty winter recipes, why not try our:  

The latest nutrition advice, plus health and wellness tips delivered to your inbox monthly