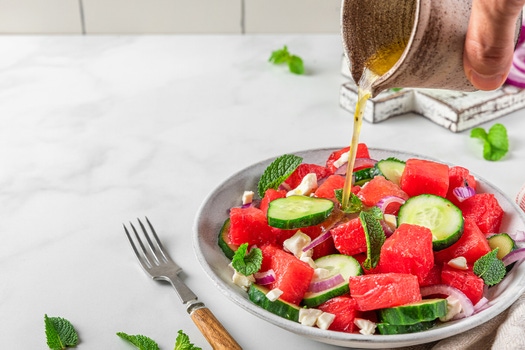 3 simple go-to dressings that make salads healthier
Making salads healthier with dressing – yes, it is possible.  
We've asked our dietitians for their favourite DIY dressings that are super quick and easy to make at home. These tasty combos dial up flavour and literally boost the goodness of what's in your bowl!  
1. Simple lemon vinaigrette
A classic dressing with a zesty, citrusy flavour that works well with simple salads needing a bit of oomph. Traditionally combining lemon, olive oil, mustard and honey, this dressing is actually loaded with the good stuff. The vitamin C in the lemon helps you absorb more iron from the leafy greens in your salad, while the extra virgin olive oil is one of the best oils for your body, providing healthy monounsaturated fatty acids and high amounts of powerful plant compounds called polyphenols. As part of a healthy diet, extra virgin olive oil has been shown to improve longevity giving this type of dressing our tick of approval.

Try the vinaigrette dressing that's listed with our Chickpea, feta and rocket salad.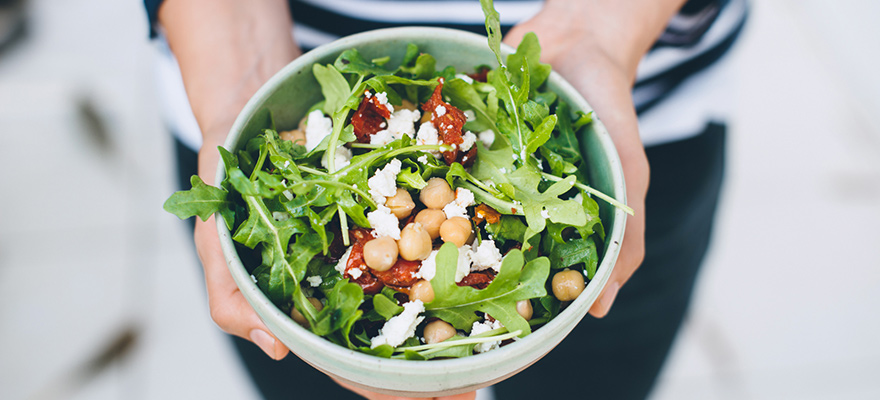 2. Green goddess dressing 
Did you know adding avocado to your salad helps your body absorb fat-soluble nutrients such as lycopene, lutein and carotene from other colourful veggies? Made with avocado and zesty herbs, this salad dressing provides an avo hit in a deliciously creamy dressing, minus the saturated fat content.  
Avocados are one of the only fruits to contain healthy monounsaturated fats. These fats help to maintain healthy cholesterol levels and boost satiety, so you'll feel full for longer, even after eating a salad – perfect if you are watching their weight. Here's a green goddess dressing recipe to try. 
3. Hummus
More than a dip, hummus makes a tasty and healthy addition to salads and bowl food. Traditionally made with chickpeas and tahini (a sesame seed paste), hummus provides the plant protein and  high fibre benefits of legumes and seeds with a tasty kick. Chickpeas are packed with vitamins and minerals including iron, zinc, B vitamins, calcium and magnesium for energy and immune support, as well as looking after your bones and muscles. Did you know legumes, such as chickpeas, are also great for blood sugar control and weight loss, as they are low GI? 
Try this golden turmeric hummus – a cheap and easy to make recipe that's a deliciously good dip and salad addition.  


The latest nutrition advice, plus health and wellness tips delivered to your inbox monthly