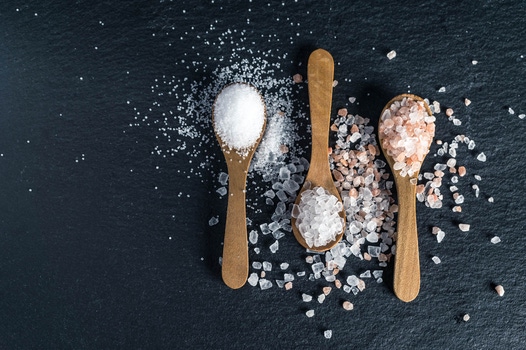 Hold the salt - 5 other ways to add flavour
We all know eating too much sugar has its risks, but did you know it's equally important to not go too heavy on the salt?  

Here are our top five tips for reducing salt in the kitchen without compromising on taste:

Hit the herbs!

Substituting herbs for salt in your favourite meal is a great way of cutting down your sodium consumption. For a fresh burst of flavour try tearing up some fresh parsley, mint, basil or coriander and tossing them through, or scattering them over, your freshly cooked meal. There is a botanical wonderland of herbs available to all of us. It is super easy and budget-friendly to freeze any fresh herbs you have leftover and even dry your own. Many herbs are easy to grow in pots on a sunny windowsill. 

Spice is nice

Spices like cumin and smoked paprika add a delicious smoky savory note when stirred through curries, sauces and stews. Remember spices need cooking to best release their flavours, so add them whilst your dishes are bubbling away on the cooktop.

Garlic, ginger and chilli

This trilogy of natural flavour-enhancers can add depth of flavour and warmth to your meals. Add garlic to the pan before adding the rest of your ingredients and it will infuse your dish with flavour. Roasted cloves of garlic squeezed over barbecued meat or roasts is a delicious alternative to sodium-based condiments. Some chopped chilli or peeled and grated ginger can add a freshness to salads, stir-fries and marinades.

Add a little acid

Top chefs swear by adding acid to dishes to enhance flavours. Acids can add a bit of punch to dishes and counteract rich flavours. It might be in the form of a dash of vinegar or citrus juice. Veggies and salad come alive with a little citrus zest or a fresh squeeze of orange or lemon juice. No added salt tomato paste can also really add zip to stews and intensify flavours in marinades.

Umami
 
Mushrooms contain glutamates – a natural food chemical that enhances the umami taste. The humble mushie is also naturally low in salt and high in a number of B-vitamins. Gently fry your mushrooms and add to gravies, stews or stir-fries. Chopped up fresh, mushrooms can also add a nutritional boost to green salads. Did you know mushrooms can also be used as a thickener in soups or stews?

So, get creative – enhancing flavour doesn't have to mean grabbing the salt grinder!

The latest nutrition advice, plus health and wellness tips delivered to your inbox monthly