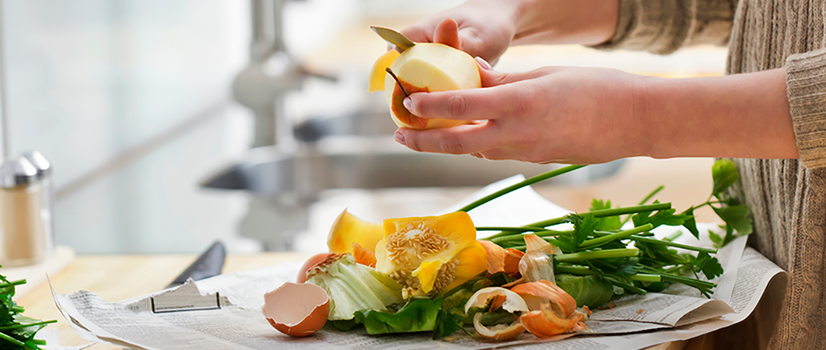 War on waste: Handy hacks with kitchen scraps
Do you know how much food you throw away?

Here's a fact to get you thinking: 157,389 tonnes of food a year is thrown away in Kiwi households – that's equal to 271 jumbo jets of food.


We spoke to
Simon Toohey
, the brains behind the Sustainable Earth Network about 'root to leaf' cooking and reducing kitchen waste. Here are his top tips for using kitchen scraps:

Keep the skins
Don't throw fruit and vegetable skins straight in the bin. They're often packed full of flavour and nutrients, so use them when you can. Two of the most versatile kitchen scraps are those you probably use almost daily – onion and garlic skins. They can be
frozen
and used later to add an extra punch of flavour and nutrition to soups or stocks.
Onion skins
and avocado peels can also be used to make
natural ink dye
– perfect for the kids' next art project. Even better, when it comes to most fruit and veg leave the skins on for added nutrients and flavour – particularly apples, sweet potatoes and carrots. 

Unreal peel 
Kiwis chomp through
90,000 tonnes
of bananas a year – that's a lot of peels, so please don't toss them. When blended or baked, the skins break down making their nutrients easier to absorb. And it's worth it too, because
eating banana peels
is an easy way to get extra dietary fibre, vitamin B6, vitamin C and magnesium.
Use them
in smoothies, curries and cakes. They also work as a great
fertiliser
for your plants. 

Scrap hacks
Coffee grounds are great for
deodorising
your fridge or rubbish bin or as fertiliser for your garden, use stale bread to make
croutons
and
dry out
leftover fresh herbs to use later. 

Eat root to leaf
There are so many 'root to stem' veggies – meaning you can eat or cook every part of the vegetable so that nothing goes to waste. Here's a mix of my top 5 common and lesser-known veggies you can eat every part of: 
Celeriac is in season in autumn and contrary to common belief you don't even need to peel it. This celeriac 'zombie brain' by Jamie Oliver is sure to get everyone talking, or try my roast celeriac tacos if you want to test your cooking skills. 
Radishes are normally kept for slicing raw and tossing through a salad, but all parts of a radish are edible. Use their tops for a garnish or sauté them for an omelette. Radish roots are great for salads, and the main part of the vegetable can be pickled, roasted, or eaten with tacos – the options are endless.
Kohlrabi – it's that knobbly purple or green vegetable you've probably walked straight past before. Next time, pick it up and give it a go. Kohlrabi is having a boom and it's another veggie that really pulls its weight when it comes to versatility. It's great in slaws and salads, you can sauté the leaves like spinach, you can steam it, pickle it and any portion (leaf or bulb) is good to add to hearty veggie soups. 
Broccoli – don't throw out the broccoli stems! They're delicious and nutritious and perfect for snacks, stocks, stir fries and more.
Cauliflower – like broccoli, cauliflower florets are usually the star of the show while the rest of the vegetable is flung to the bin. Cauliflower leaves are great for salads or side dishes and their stems are delicious roasted and dipped in your favourite dipping sauce. Or try my favourite roasted whole cauliflower.
Here are some more ways to cut food waste in the kitchen. And if you're still not sure what to do with your scraps, don't forget most can be used for stock or compost.

The latest nutrition advice, plus health and wellness tips delivered to your inbox monthly