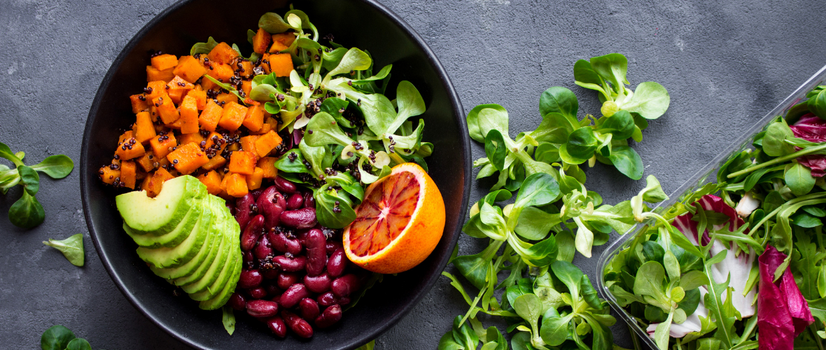 5 high protein summer salads that are plant-powered
Eating more plant foods doesn't mean missing out on protein. In fact, there's a long list of plant foods that pack a protein punch.

The evidence consistently shows eating more protein from plant sources is linked with better health.
Swapping out meat for plant protein is particularly good for your heart. It improves cholesterol (total, LDL and HDL) and other risk factors for heart disease. Plus, eating more plants and less meat is one of the most powerful things you can do to minimise your impact on the environment.

To kick off summer salad days, our dietitians have shared their 5 favourite tasty bowls that provide at least 10g of protein a serve (some more than 15g).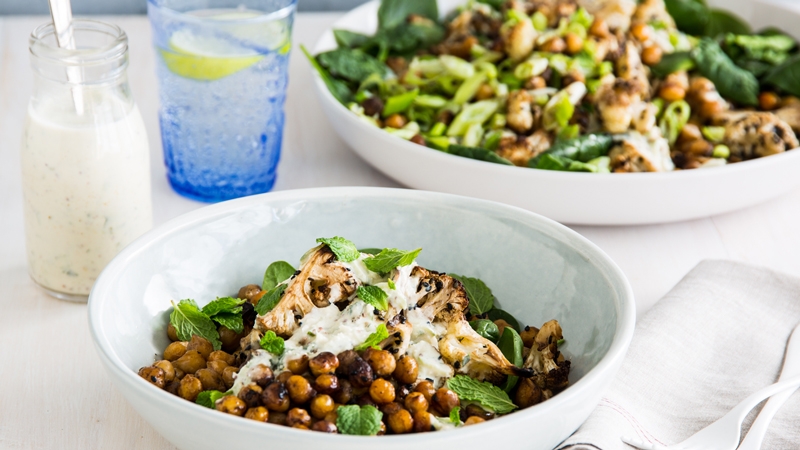 Delicious, simple and topped with a zesty, minty fresh yoghurt dressing, this salad delivers a whopping 18 grams of protein in every serve, mostly from the chickpeas.

Commonly thought of as a plant protein hero, chickpeas are part of the legume family, and just one cup of cooked chickpeas provides 12g of protein. Legumes such as chickpeas provide some of the most protein per serve, between 10-20g.  They're also cheap to buy, low in fat, low GI and also a good source of B group vitamins, iron, zinc, folate, calcium and magnesium. They're budget-friendly nutrition at its best.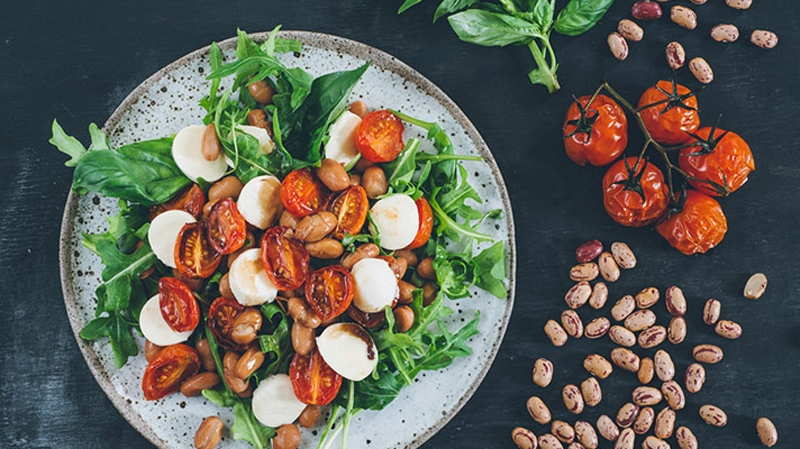 This salad is fresh, colourful and bursting with flavour. It's high in protein and fibre too.

The lesser known bortolli bean (also a legume) may sound a little bit fancy, but they can be picked up at any major supermarket, canned or dried. Their mild nutty flavour and creamy texture make them perfect with Indian flavours and vegetarian recipes. To cook dried bortolli beans simply rinse and place them in a pot, cover with water, bring to the boil, reduce heat to a simmer and cook for 55-70 minutes until tender. Canned are ready-to-go for convenience and just as nutritious.

If beans tickle your fancy there's good news.There are several varieties to choose from and when it comes to salad recipes, they can generally be interchanged. Try these salad recipes for Black beans, butter beans and broad beans. Beans or legumes are all highly nutritious and packed with fibre, as well as plant protein.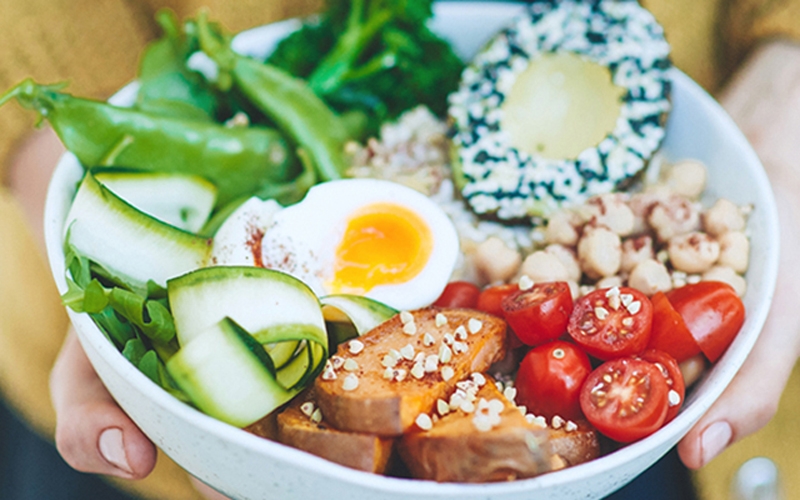 Whether for lunch or dinner, a nourish bowl is sure to fit the bill. Nutrient rich, flavour packed and super easy to put together, they're a nourishing comfort food to fill your belly and soul. A healthy nourish bowl includes protein, veggies, wholegrains, and healthy fats.  If you are building a meat-free bowl, tofu makes a brilliant addition. It will deliver the benefits of soy, including high quality protein, fibre and protective phytoestrogens. Try tofu firm, smoked or marinated. Just 170g (one serving) of tofu delivers around 20g of protein!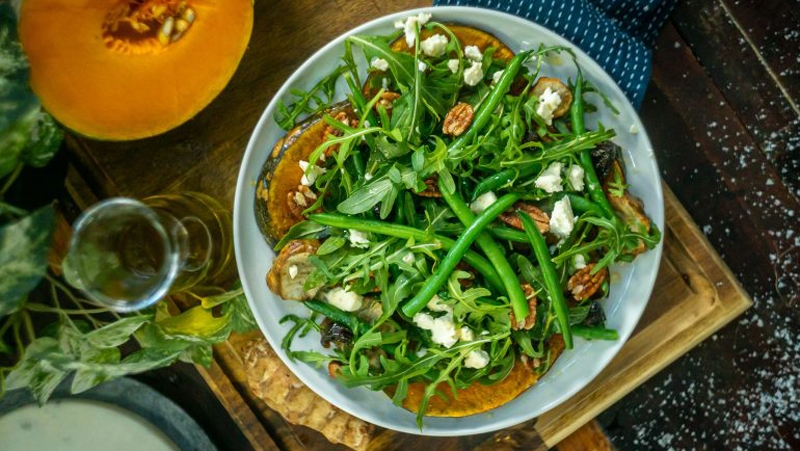 Sprinkling a salad with unsalted nuts  is a super easy way to bump up the protein. Among common plant foods, nuts and seeds have the most protein per 100g - just a handful of nuts (a 30g serve) provides up to 6 grams of protein. 

This hearty salad uses pecans which are one of the few plant sources of omega-3 fats, and also contain both mono- and poly-unsaturated fats, important for heart health. You can swap pecans for walnuts, also a good source of omega-3 fats. 

Cooking tip - this salad can be served while the pumpkin is still warm and the Jerusalem artichokes can be left out or swapped for sliced potatoes – another surprising source of plant protein.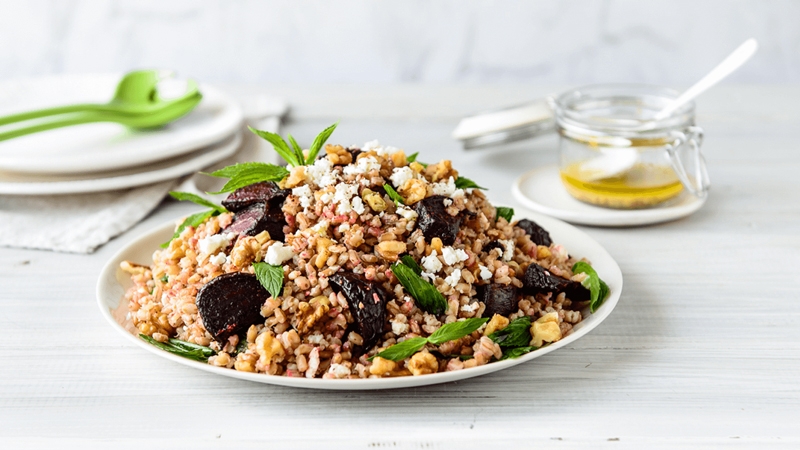 This Middle Eastern-inspired recipe uses roasted ingredients to create a rustic and hearty salad with vibrant colour. Great for BBQs or summer entertaining.

When you think of grains, our first thought often goes to carbs, but wholegrains, including wholegrain barley, are also a source of plant protein. You can swap out barley with other wholegrains, such as brown rice or quinoa. The goodness in wholegrains can also help keep your gut happy.

5 tips to up your plant-based protein:
Sprinkle legumes or nuts on top. These are easy to add – just open canned legume of your choice, rinse, drain, and sprinkle cold on top of salad. Any unsalted nuts and seeds are also easy to add as well. Nuts can be whole, chopped, slivered or flaked.
Try candied walnuts or pecans for an exotic touch or special occasion. Simply melt a tablespoon of brown sugar with a dash of water in a saucepan, add in the whole or chopped nuts and stir till coated. Place on a dish to cool and sprinkle away.
Marinated tofu, now readily available in supermarkets, can be diced or cubed and added into a salad as a swap for cold chicken or fish, providing an excellent source of protein.
Wholegrain salads, like brown rice salad, barley buckwheat or quinoa salad will also provide good amounts of protein. Try swapping one type of grain for another in recipes for variety. Add nuts or legumes for that extra protein punch.
Top with feta or goat's cheese – a sprinkle of either of these on your salad will increase protein intake too.
 For a list of supermarklet staples that contain high protein click - here.

The latest nutrition advice, plus health and wellness tips delivered to your inbox monthly