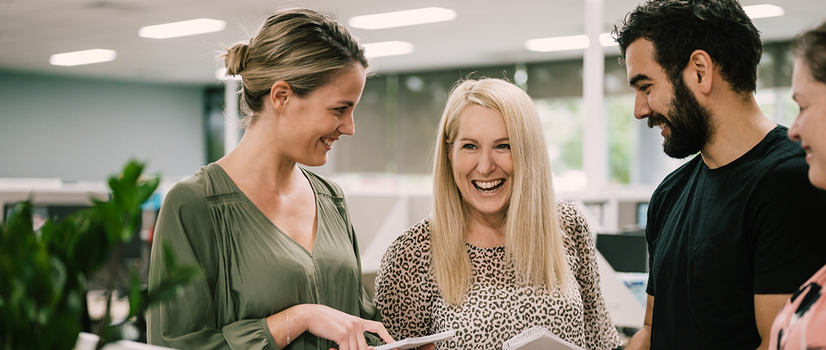 Meet the team
What does Nutrition Insights do?
The Nutrition Insights team consists of five Accredited Practising Dietitians. We work closely with our internal Marketing, R&D and Communications teams to identify and drive nutrition opportunities for the business, translate and communicate nutrition science and engage with key external stakeholders in support of a healthy plant-based diet. 
We are part of Sanitarium's Development & Innovation family and we are based at Head Office Berkeley Vale & in Auckland. 
The Nutrition Insights team also develops nutrition content for  Wholicious Living, communicates with health professional audiences, manages Sanitarium's Ask a Dietitian service, and contributes to Sanitarium's Vegetarian Recipes.

Shane Landon
An Accredited Practising Dietitian with marketing qualifications and an MBA, Shane has pioneered the provision of specialist nutrition marketing and communications advice to a range of leading food and health organisations, including Sanitarium (remember "9 out of 10 Nutritionists Recommend Weet Bix"), NSW Health and Food Industry Asia where he was based in Singapore.

Since joining Sanitarium as manager of the Nutrition Insights team, Shane has been working with the team to develop compelling nutrition insights and to support Sanitarium's nutrition position both internally and externally. He has a strong professional interest in dietary fibre, resistant starches and the health benefits of plant foods and according to his two kids, is famous for his veggie pizza!

Trish Guy
Trish is an Accredited Practicing Dietitian, completing a Bachelor of Health Science (Nutrition and Dietetics) at the University of Newcastle. Trish has been a part of the nutrition team for over 20 years, supporting food brands she loves and enjoys daily.

Trish is mum to two kids and enjoys encouraging her them to try something new and helping them develop everyday food preparation and cooking skills.  She is also fascinated in learning and sharing about how plant foods can help with energy, vitality and long-term health.  Homemade pizza is always on the menu.

Jessica Ferguson
Jessica Ferguson is an Accredited Practicing Dietitian (APD), completing her Bachelor of Nutrition and Dietetics (Hons 1) in 2014 and PhD in Nutritional Biochemistry in 2019 at the University of Newcastle. Between completing her undergraduate and joining the Sanitarium team, Jess has worked part-time in private practice as an APD delivering tailored medical nutrition therapies alongside investigating the effects of plant bioactives and plant-based dietary patterns on human health as part of her PhD and postdoctoral research projects.

Jess is passionate about empowering individuals to nourish their bodies using food and nutrition as their tool. In her spare time, Jess enjoys being at the beach, keeping active, playing the piano, scouting out new restaurants and cafes and spending time with friends and family – which usually revolves around delicious food like our Mediterranean grazing platter!

Charlotte Moor
Charlotte Moor is a New Zealand Registered Dietitian (NZRD), completing her Masters of Science in Nutrition and Dietetics at Massey University. Charlotte has been part of the Sanitarium Nutrition team since 2018.

Charlotte believes that healthy doesn't need to be hard and is passionate about helping people find foods that they will not only love but will also nourish their bodies to help them live happier, healthier and longer lives. In her spare team, she enjoys trying new foods and recipes (not always successfully!), keeping active, and spending time with friends and family. In the weekend, you can find her cooking a vegetarian laksa, or any dish that contains peanut butter.

Eliza Baird
Eliza Baird is an Accredited Practising Dietitian (APD), completing her Bachelor of Nutrition and Dietetics at the University of Newcastle in 2020. Upon graduation, Eliza joined the Sanitarium team part-time and also worked casually as a clinical dietitian for NSW Health before transitioning to Sanitarium full-time.

Eliza is passionate about chronic disease prevention, promoting healthy food choices as easy choices, and using evidence-based science to challenge common misconceptions around food. In her spare time, Eliza enjoys going to the beach, running, painting, and socialising with family and friends. She's always finding new ways to cook up a delicious, veggie-packed pasta dish, and loves a peanut butter protein ball as a quick afternoon snack.

The latest nutrition advice, plus health and wellness tips delivered to your inbox monthly