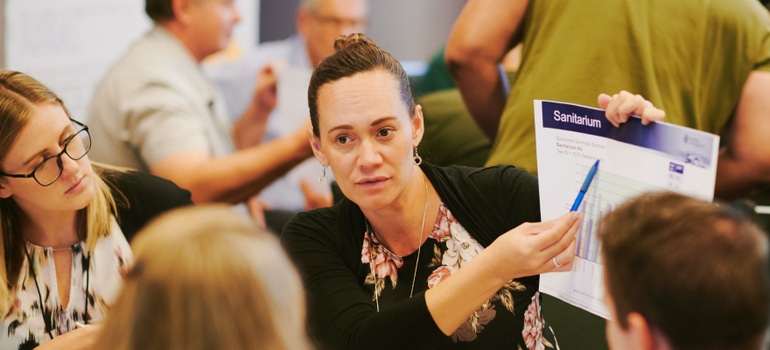 Empowered people
Women in leadership positions up by 39% in 2020
We believe we are stronger when we create diversity of thinking, abilities and perspectives into our business, which includes encouraging more women to take on leadership roles. In New Zealand the percentage of women in leadership positions has increased to 39% over the past 12 months.
 
Sleep Better, Perform Better
Staff participating in our BetterU health and wellbeing program "Sleepfit" Edge Challenge say it boosted satisfaction with their sleep by 28%. The program aimed to enhance awareness of sleep health and kickstart healthy sleep behaviours, with 85% of participants reporting improvements.
 
Staff Engagement is UP!
85% of our staff say they are engaged, up from 67% in the previous year. This pleasing result complements improvements in our culture towards greater constructive styles.
 
Employees offered free BetterU services
Sanitarium employees benefit from a range of health and wellbeing programs during the course of the year.  Free to all staff, the variety of programs and information range from on-site gyms, exercise programs, health challenges, free counselling and health services.

Staff are also able to access a $100 health and wellness subsidy each year to support the purchases of equipment and services that support their health journey.
 
Saving our skin
Skin checks were performed on numerous employees, who gained a greater understanding of different types of skin cancers and their causes. Sun damage was evident on a number of employees and four different skin cancers were diagnosed during the programme.
 
Our chaplains know Life Matters
Life Matters is about giving support to our employees for them to be inspired to live a life of meaning, care and service. Together we seek to create space in the workplace to explore life, meaning and transformation. We believe that our lives truly matter individually, within our workplaces, our families, and in connection to the wider world. Life's meaning is affirmed in the words of Jesus offering people a full and abundant life. John 10:10.

As Jennifer from our New Zealand team explains:

"In these crazy times, Life Matters 'online' has been a positive and welcome distraction from the day to day COVID-19 environment. Prior to lockdown and due to timings, I had only been to a handful of Life Matters live. The flexibility of Life Matters online, both live and as time permits has been fantastic. A welcome addition to my day, particularly working in the office with the sometimes very little face-to-face interaction that is the cornerstone of our culture. I have also loved watching/hearing Life Matters trans-Tasman something we would have never thought possible a few short months ago. Well done to the whole Life Matters team! Keep up the fantastic work!"

Meaning Matters
In the unprecedented times of COVID-19 when workplaces were closed and the majority of our staff were at home, Life Matters transformed to an online space and across all our entities participation soared. This opened greater opportunity for sharing together, exploring the context in which we all found ourselves and what it meant to our lives. It opened doors for many one on one conversations with our chaplaincy team who were then able to respond to individual support and care for those who were doing it tough.

The latest nutrition advice, plus health and wellness tips delivered to your inbox monthly