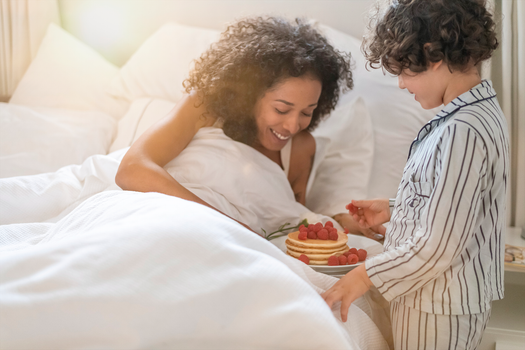 Mother's Day breakfasts that you'll actually want to eat
This Mother's Day save yourself from a cold toast in bed with these delicious breakfasts you'll look forward to eating. They are healthy, simple enough for kids to make (with a little help), and some can even be prepped the night before.
Do yourself a favour and subtlety, or not so subtlety, pass these recipes on.
This no-bake, no-fuss take on the Middle Eastern shakshuka is a simple, yet delicious combination of ingredients that will have you asking for more. 
If you have a busy Mother's Day planned, this is the ideal vegetarian breakfast to keep you full of energy with its balance of quality carbohydrates (chickpeas and wholegrain bread), protein (eggs and chickpeas), vegetables (spinach, capsicum, onions and tomato) and healthy fats (olive oil). 
The best part of this dish? It's a one pan wonder that will hopefully leave the kitchen mess free.
This porridge is warming and a little indulgent with its drizzle of caramel sauce and slices of banana triggering taste sensations that are more like a banoffee pie.
While the topping is a little decadent, the basis of this breakfast is all about goodness with Weet-Bix, banana and almond milk providing the goodness of wholegrains and quality carbs as well as fibre, iron, B vitamins, calcium and potassium.
And want to hear the best news? It's ready in 10 minutes and most of the ingredients are pantry staples. 
These crunchy caramelised sweet potato rosti fritters topped with oozy poached eggs and smashed avocado will get your special day off to a very good start. Adding some tomato relish and baby spinach takes this yummy combo to the next level. 
Sweet potatoes are a tasty way to help you get your daily intake of vitamin A and C. They also provideplenty of nutrients you need to look and feel great including fibre, folate, vitamin B6, niacin, and potassium.
These rostis can be prepped the night before making it even quicker and easier for your loved ones to make in the morning, or if you are hosting breakfast, it's a great tip to reduce your time in the kitchen, so you can enjoy more family time. 
Mushrooms are at their best in Autumn making this the perfect recipe for Mother's Day. This is another simple, yet tasty recipe that has the added bonus of providing a wide range of nutritional benefits. 
If you're feeling a little tired (what Mum isn't, right?) then this is the brekky for you as the range of vitamins such asvitamin D and niacin to help you live your best Mum life.
Mushrooms also contain minerals like copper and selenium which help to support a healthy immune system.
Luckily, mushrooms are not only nutritious, but delicious, too. Have you heard the term 'umami'? Umami means tasty and is the savoury taste that helps gives mushrooms their deliciously satisfying flavour. Cooking with foods that have natural umami flavours help increase the taste factor and make it easier to use less salt in your cooking. 
This simple refreshing smoothie is probably the easiest and quickest recipe of them all, which makes it perfect for the kids to help whip up. 
Loaded with delicious blueberries for natural sweetness and all the nutrients that have earned these berries 'superfood' status. Blueberries are bursting with antioxidants and phytonutrients, which have been shown to support cognition and memory . They are also high in polyphenols, the natural plant pigments that give berries their vibrant colour. Polyphenols are good for your skin as they may play a role in reducing oxidative stress, which can cause the collagen fibres that keep our skin plump to break down.
To top that off the addition of cashews will not only make this smoothie extra creamy but these tasty morsels add even more nutrients, including iron and zinc, and nudge up the protein without the need for expensive protein powders. 
This sticky date overnight Weet-Bix ticks all the boxes. It's delicious, quick and easy and needs to be prepared the night before to allow for overnight refrigeration. It has limited chopping and no need for hot ovens or stoves, making it manageable for even the littlest members of the family. 
It will even keep the teens in your home happy with an on trend giving them something to snap or film for TikTok. 
The sweet caramel taste of the dates makes this a must-try luxe breakfast. Dates are high in fibre and packed with antioxidants. And for the Mums-to-be several studies have linked eating dates late in pregnancy with bringing on labour and even reducing the length of labour. 
Whatever you're having for breakfast on Sunday, we hope you find time to cuddle up in bed and enjoy your Mother's Day. 

The latest nutrition advice, plus health and wellness tips delivered to your inbox monthly